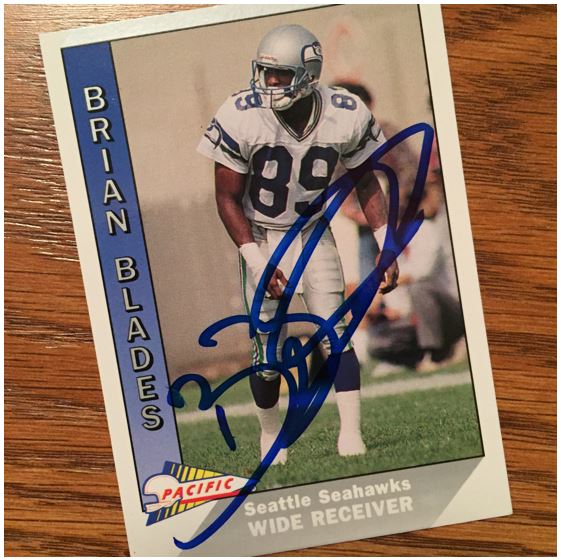 TTM Stats
Sent: 12/23/2017 | Received: 1/16/18 | 23 Days
'91 Pacific (returned '91 Pro Set Platinum unsigned)
Address: Home
The Story of the Autograph
Brian Blades was born and raised in Florida. After graduating high school in 1983 he made his way to the University of Miami. That was a time when Miami was an absolute powerhouse with Jimmy Johnson coming to coach in 1984.
Those were the days of Bernie Kosar, Vinny Testaverde, Steve Walsh, Alonzo Highsmith, Michael Irvin, Bennie Blades, Bubba McDowell, Jerome Brown, Kevin Fagan, and Jeff Feagles. They were national champs in 1983 (11-1), 8-5 in 1984, 10-2 in 1985, 11-1 in 1986, and national champs in 1987 (12-0). Brian would end his college career with 1,493 yards and 15 TDs at the wide receiver position. His best year was 1985 when he caught 30 passes for 657 yards and six TDs.
In 1988 he was drafted by the Seattle Seahawks and spend his entire career there (1988-1998). He was picked in the second round with the 49th pick. In his second year (1989) he made the Pro Bowl and was an All-Pro for the first and only time in his career. 1989 was a good year, however he scored the most touchdowns of his career in his rookie season with eight (and only 40 receptions that year). He would have four years with more than 1,000 yards.
Blades was charged with the murder of his cousin Charles, Jr. and was convicted of manslaughter. The conviction was later overturned by a judge for failure to produce enough evidence and the appeal upheld his acquittal.
The Score on Brian Blades – 7.0


I thought from what I had seen Brian would sign whatever you sent him, but maybe that's not the case. I only have so many cards of his so whatever I send back looks like it might need to be one at a time. He has a pretty cool and loopy autograph. I especially love the "Bs". This came out great on this card too. The "Bs" are strong and the loops are a little lighter, probably from the speed at which he signs. But overall I like this one.
Thanks Mr. Blades! This gets a 7.
>>> READ MORE ABOUT MY AUTOGRAPH SCORING SYSTEM <<<
Thanks for visiting BravestarrCards.com: Card Collecting and TTM Autographs.
Information gathered from Wikipedia and Pro Football Reference.