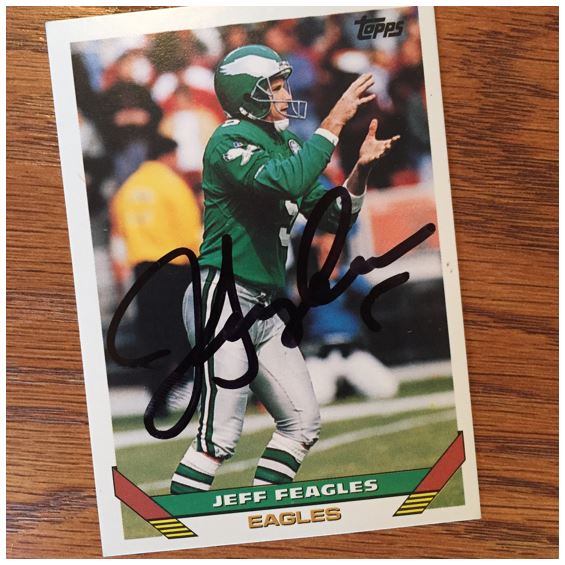 TTM Stats
Sent: 10/18/17 | Received: 11/20/17 | 32 Days
'93 Topps
Address: Home
The Story of the Autograph
Jeff Feagles is a former punter for the Patriots, Eagles, Cardinals, Seahawks, and Giants. He played from 1988 to 2009 and made the Pro Bowl twice during that time (with the Cardinals and the Giants). He has the most punt yards and most punts in NFL history, which I guess you would expect when you play for 22 years. He won Super Bowl XLII with the Giants.
Jeff had an amazing career as a punter. I think what might be the most amazing part though would be his durability. You have to be some kind of athlete (even if you are a punter) to last 22 years in the NFL.
But Feagles has a few football stories off the field. In 2004, when Eli Manning joined the team, Feagles gave the rookie his #10 (that Manning wore in college). In exchange, Manning paid for his family to vacation in Florida. Jeff switched to #17 until Plaxico Burress joined the team. Feagles sold him that number in exchange for a new kitchen. That Jeff Feagles sure know how to work some side benefits from playing football!
When Jeff retired he was the last active player to appear in Tecmo Super Bowl.
The Score on Jeff Feagles – 4.0


I wish I had more cards of Jeff's but I just don't. There's quite a hole in my football card collection. Not that I would call myself a football card collector, but some year interest me more than others. I'll be on the lookout for his cards I guess.
I think Jeff has a fine signature and I would have given it higher if not for two things. First, there's a smudge on there. Second, the place where I would think is his number just kind of looks like a mistake. I don't know what's supposed to be under the last part of his last name, but it's just awkward. It doesn't look like a number, but it's where I would expect a number to be. Jeff gave a nice and strong signature, it's pretty big too. It's a little hidden by some of the dark background on that part of the card thought too.
Thanks Mr. Feagles. This one gets a 4.
>>> READ MORE ABOUT MY AUTOGRAPH SCORING SYSTEM <<<
Thanks for visiting BravestarrCards.com: Card Collecting and TTM Autographs.