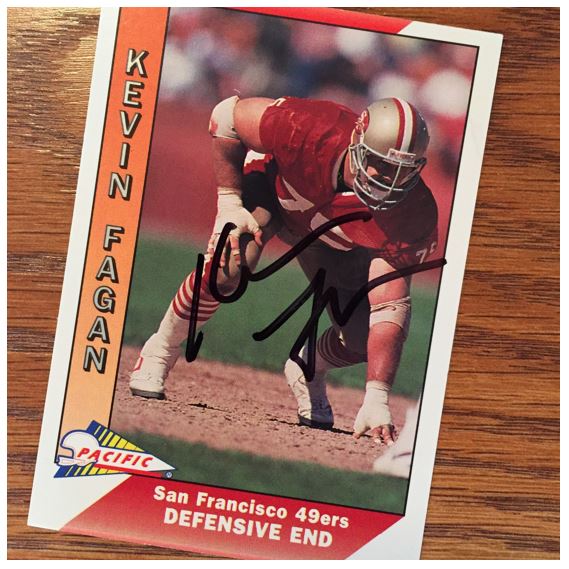 TTM Stats
Sent: 11/24/2017 | Received: 12/4/17 | 10 Days
'90 Fleer, '90 Topps, '91 Pacific
Address: College of Central Florida
The Story of the Autograph
Kevin Fagan spent his whole career with the San Francisco 49ers and played defensive end from 1987 through 1993. He was always known as one of the best run-stopping defensive lineman. However, several injuries forced him to retire after seven years of lighting up ball carriers.
He was a Miami Hurricane and was drafted in 1986 in the fourth round. He did start playing until 1987 though. Even though injuries to his back, shoulder and knees force him out of football, Kevin was part of two Super Bowl championship teams. He was also known as one of the strongest men in the NFL.
These days Kevin coaches at the College of Central Florida. He not only coaches football, but also softball.  Fagan's daughters and son were all athletes too playing softball and football.
The Score on Kevin Fagan – 4.5


Kevin has a simple signature. It's mostly capital letters and then some lines. They are all pretty consistent on the cards, except for the quality of the marker. The '91 Pacific card is clearly the best quality. The others have that issue where the middle of the marker is dead. Sometimes that's due to the marker and other times the card. Those cards are a little different than the Pacific which is more glossy. Usually though the gloss is the issue.
Thanks Mr. Fagan! That '91 Pacific is the best but the quality of the others brings the score down… 4.5.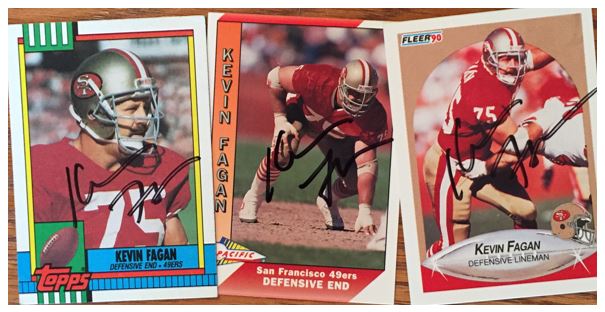 >>> READ MORE ABOUT MY AUTOGRAPH SCORING SYSTEM <<<
Thanks for visiting BravestarrCards.com: Card Collecting and TTM Autographs.