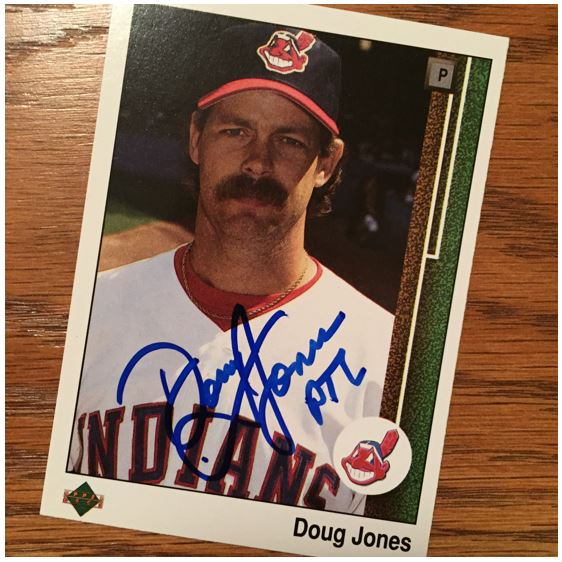 TTM Stats
Sent: 7/15/2017 | Received: 1/16/18 | 181 Days
'89 Topps, '89 Upper Deck, '90 Donruss, '91 Score (2), '94 Topps (also returned a signed custom card)
Address: Home
The Story of the Autograph
Doug Jones is a former relief pitcher. In his 16 year career he pitched for the Brewers (twice), Indians (twice), Astros, Phillies, Orioles, Cubs, and Athletics from 1982 through 2000. He was a five-time All-Star, with three of those appearances as an Indian in the late 80's and early 90's.
Doug was drafted in 1978 by the Brewers in the third round of the draft. He spent a long time in their minor league system with only a few appearances in 1982 for the Brewers. After being released in 1984 he was picked up by the Indians. According to Doug, on the custom card he sent, he considered quitting baseball because he didn't think he could make it. But make it he did. In 1986 came up for good and by 1988 he was the Indians' full-time closer and made his first All-Star game. That year he broke the Indians' saves in a season record with 37. He would eventually own the Indians' career record with 129 until Bob Wickman broke it.
Jones was a change-up specialist and never a fireballer. His fastball would top out in the low-to-mid 80s and he had a knuckle curve as well. His greatest save seasons came while in his first stint in Cleveland. His best year he had 43, but he had four other years of 30 or more and then three more years with over 20.
He ended his career with the Athletics in 2000 after 303 career saves (12th in history when he retired and currently 25th). At the time he retired he was the oldest pitcher in the majors at 43.
The Score on Doug Jones – 7.5


Doug has a really great signature. I feel like it has a lot of character to it with some of the loops he does. I wouldn't call it a stacked autograph, but it's not all on one line either. This is my second return from Doug and I've never gotten a card that has a smudge or a bad marker. And not only is it good, it's very consistent. He really looks like he takes the time to sign and he includes a custom card. I think some of these cards could be better for a signature.
One thing I am not sure of is was "PTL" means in the signature. My guess was that it had to do with Doug's faith and after seeing "Praise the Lord" as a definition for he acronym I would be that's it.
Thanks so much Mr. Jones! Great signature and I'm giving these a 7.5.

>>> READ MORE ABOUT MY AUTOGRAPH SCORING SYSTEM <<<
Thanks for visiting BravestarrCards.com: Card Collecting and TTM Autographs.
Information gathered using Wikipedia and Baseball Reference.