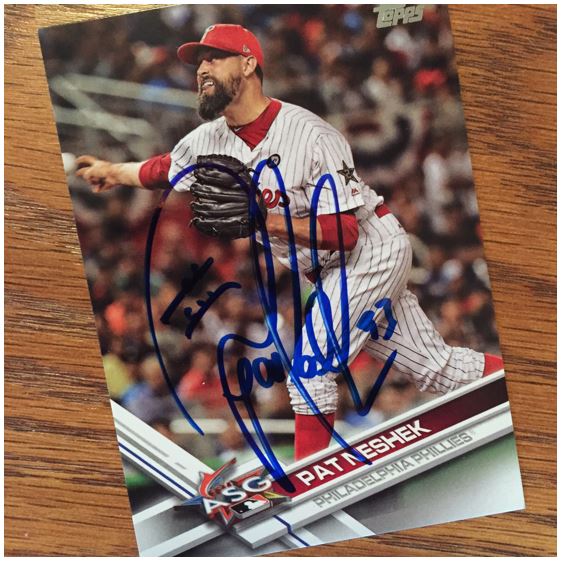 TTM Stats
Sent: 1/2/2018 | Received: 1/22/18 | 20 Days
'16 Topps, '17 Topps Update
Address: PO Box
The Story of the Autograph
I got some cards from Pat in 2017 and you can read about that here.
I wrote a little bit about him then, but what I wanted to address here is how much a supporter of the hobby he is. Pat will sign anything you send him, except for doubles (according to an online interview I read). And from what I've seen people post that's accurate. I've seen him sign a ton of cards at a time through the mail.
Another thing about Pat is that he's active on Twitter and if you are a collector, or even better a TTMer, you should follow Pat.
The Score on Pat Neshek – 7.5


Pat will always have one of my favorite autographs. I rated this one a little lower than the others I have because the marker didn't come out as well. That could partly be with how fast he signs. I actually asked him in the letter what the little hashmarks in the "P" are for but he didn't answer. I'm sure I could ask him on twitter.
Thanks Mr. Neshek! I'm giving these a 7.5.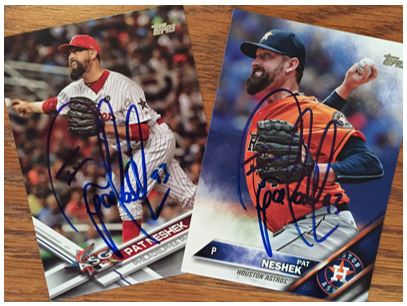 >>> READ MORE ABOUT MY AUTOGRAPH SCORING SYSTEM <<<
Thanks for visiting BravestarrCards.com: Card Collecting and TTM Autographs.
Information gathered using Wikipedia and Baseball Reference.