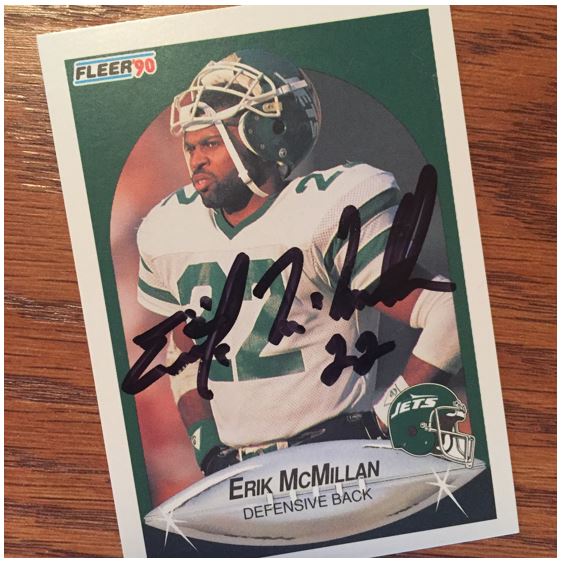 TTM Stats
Sent: 12/21/2017 | Received: 1/25/18 | 34 Days
'90 Fleer, '90 Topps, '91 Pacific
Address: Home
The Story of the Autograph
Erik McMillan played as a defensive back for the Jets, Eagles, Browns and Chiefs over his six year career. The majority of this time was spent in New York with the Jets though (1988-1992).
McMillan went to college at Mizzou and was drafted by the Jets in the third round of the 1988 NFL draft with the 63rd overall pick. In his first two years he was selected to the Pro Bowl and he was All-Pro in 1989 as well. With those two Pro Bowl appearances he became the first Jet to make the Pro Bowl in his first two years. In 1988 the AP made him the NFL Defensive Rookie of the Year. That year he led the AFC with eight interceptions.
But the McMillan and his relationship with the Jets deteriorated over the last two or so years there. He got less and less playing time and some crazy things happened to make McMillan (who was a captain and player rep for the team) really want to leave the Jets. And he did just that in 1993. And this was near the beginning of free agency so in the old system the Jets could have kept his rights, but he was instead able to move on.
Unfortunately time with the Eagles, Browns and Chiefs in 1993 didn't amount to anything.
The Score on Erik McMillan – 6.0


I don't know why but I had a feeling this one wasn't coming back. But I'm glad it did. I like Erik's signature. The way he does his "Mc" is pretty neat. I'm always a fan of the raised up little "c". He used a good marker and he signed it pretty large. The '90 Topps looks like it's on two lines, unlike the others. The other two are pretty consistent though.
Thanks Mr. McMillan! I'm giving this return a 6.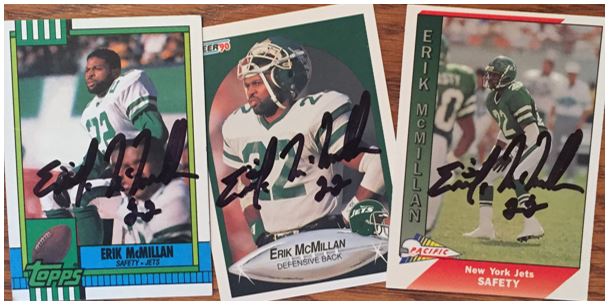 >>> READ MORE ABOUT MY AUTOGRAPH SCORING SYSTEM <<<
Thanks for visiting BravestarrCards.com: Card Collecting and TTM Autographs.
Information gathered using Wikipedia and Pro Football Reference.