TTM Stats
Sent: 7/19/17 | Received: 7/26/17 | 7 Days
'09 Topps, '17 Topps
Address: Philadelphia Phillies
The Story of the Autograph
Pat has played for six different team so far in his career. He started out with the Twins and is currently playing in Philadelphia. He's become an All-Star level reliever and made appearances in 2014 and this year (2017). He was also part of this year USA WBC team that won it all. It's fun to watch him pitch because he has an unorthodox delivery which definitely throws the hitters off.
The Score on Pat Neshek – 8.5


Pat Neshek is one of the best. He's a collector and he gets it. You should give him a follow on Twitter to see what he gets with his access. His All-Star cards from this year are insane. If you are new to the TTM game, you should find a Neshek card and send it along. He's got a great signature. It's large and loopy and I always like a number added on there. Although I did notice that he include 17 even on his Astros card when he was 37. I'm guessing he would prefer 17 and it's a habit.
A Neshek TTM success is hard to get, but is ALWAYS nice to get. 8.5 – Thanks Pat!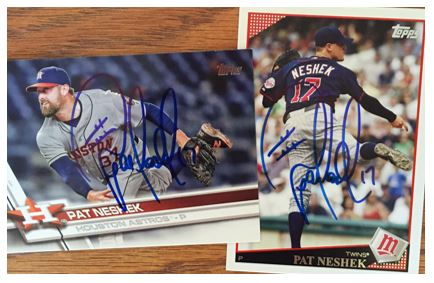 >>> READ MORE ABOUT MY AUTOGRAPH SCORING SYSTEM <<<
Thanks for visiting BravestarrCards.com: Card Collecting and TTM Autographs.