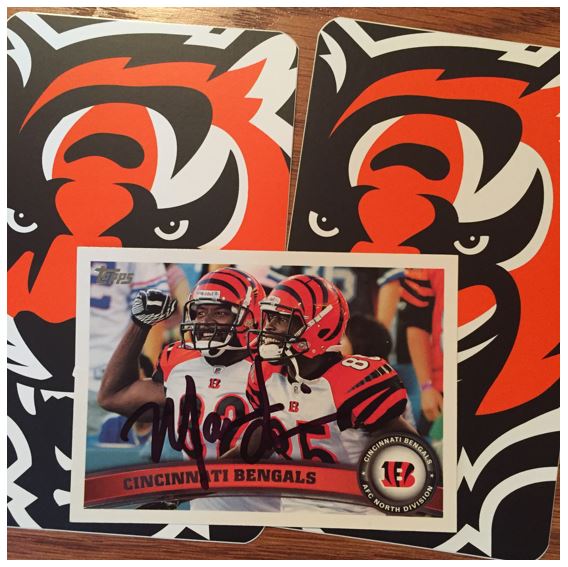 TTM Stats
Sent: 10/12/17 | Received: 10/23/17 | 11 Days
'11 Topps
Address: Cincinnati Bengals
The Story of the Autograph
Marvin Lewis is the current head coach of the Cincinnati Bengals. As the coach for Cincinnati since 2003, he is the second-longest tenured head coach in the NFL behind Bill Belichick, and the longest tenured in Bengals history. Prior to being the coach of the Bengals he was the defensive coordinator for the Ravens.
Lewis' defenses with Baltimore were awesome. I think what he did in Baltimore really set the tone for how that defense still is today. Prior to the Ravens he worked in different positions with the Chiefs, 49ers, and Steelers. When the Browns moved from Cleveland to Baltimore, Lewis was hired as the DC. That was 1996 and he held that position until 2001. In 2000, the Ravens defeated the Giants in the Super Bowl 34-7 thanks largely to the defense. That team allowed the fewest rushing yards and point in a 16-game regular season.
There were times during Lewis' tenure that all they really had was the defense and it made him a prime candidate to move up to head coach. He interviewed many places but was passed over until 2003 when the Bengals tabbed him to be their coach.
The Score on Marvin Lewis – 7.0


I really like Marvin's signature. I wish I had a little bit of a less busy card to show it off. The "M" and the "L" are VERY strong and I love the style he uses. The marker is strong. I think he could probably use a bit more space if I was going to nitpick it. I also love that he includes two stickers that looks like they could go on the back of a phone. I'm not a Bengals fan but they look pretty sharp. He actually put the card in between then in the SASE envelope.
Thanks Mr. Lewis. I'm giving this return a 7.
>>> READ MORE ABOUT MY AUTOGRAPH SCORING SYSTEM <<<
Thanks for visiting BravestarrCards.com: Card Collecting and TTM Autographs.