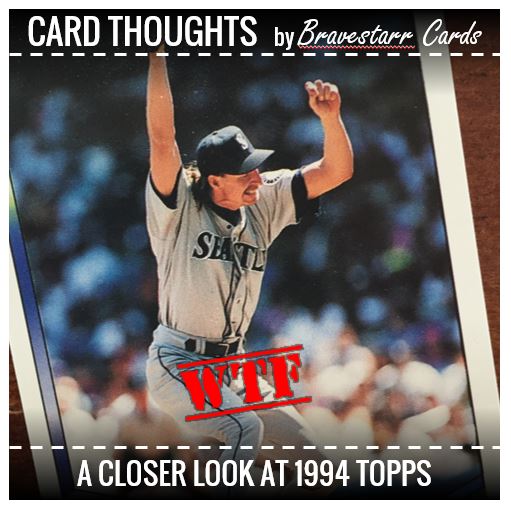 In 1994, Topps really started bitin' on Upper Deck's style. Sure, in previous years that made attempts to update the card and picture quality. And in 1993 they even added a player picture to the back of the card. But in 1994 they added a full picture on the back of the card. But as you find in Upper Deck cards of the time, double pictures mean double the oddities. This is the third of a four-part series looking at the results of a $5 retail box from a flea market.
_______________________________________________________________________
The third installment of our look at 1994 Topps shows us that sometimes you just have to say, "WTF!" Maybe it's the subject matter on the card, maybe it's something more mystical, but something about these didn't always feel right.
#1 – Doc Runs the Bases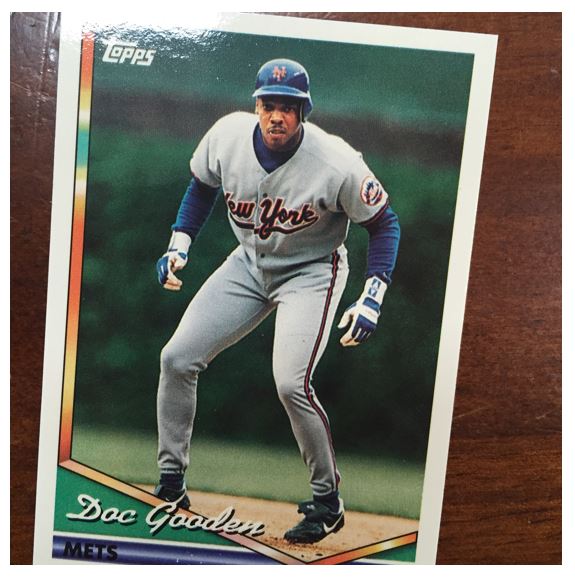 Is it strange for a pitcher to be on the bases? Not necessarily. Is it strange for Doc to be on the bases? Not necessarily. Was it strange for Doc to be on the bases in '93 (when this shot would probably have been taken)? Not necessarily. But it was in '94.
I know we think about the card in the year representing that year, but really it's something from the year before (in Chicago by the looks of it). But if this was meant to represent Doc, well, first of all he's a pitcher. Maybe let's show him pitching. Second, in 1994 Doc reached based twice. That's right two times. Probably not a great representation of him.
#2 – George is Back on the Pine Tar Wagon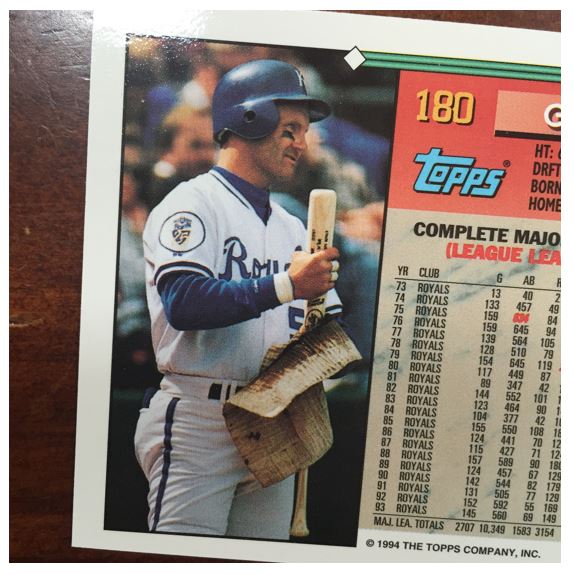 Blatant disregard for authority. That's all this is. He is literally rubbing it in our faces.
#3 – Randy Does His Ape Impersonation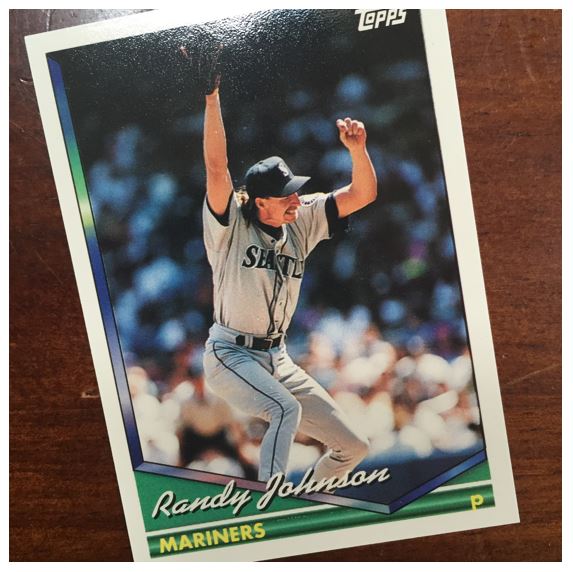 This has to be one of the most embarrassing "celebration" related pictures I've seen. Just Randy being Randy and acting like a monkey, like you do.
A lot of things happened that went well in 1993 that this could have represented:
One of his 308 strikeouts… Nope, to small.
Nearly being dealt to the Blue Jays for Steve Karsay and Mike Timlin… No, just no.
Throwing a fastball over John Kruk's head in the All-Star Game… Maybe, no, probably not. I would have remembered that I think.
Losing a no-hitter in the 9th inning to the A's on a single… Don't think so.
I'm kind of at a loss. Maybe he just was having a good day.
#4 – Bryan's Acid Trip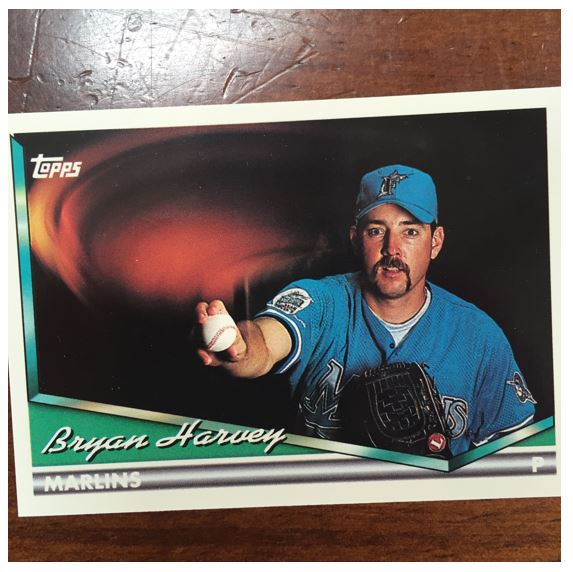 Like, whoa man. You can really do some amazing stuff with that ball, man. Like is that a screwball cuz yer screwing with my mind, man.
Bryan stop playing those tricks on us, how are you making that orange glow come out of your arm. It's like he's trying to start up an orange tornado. Where does an idea come in for this? It's not a bad thing. It's actually kind of cool. But it's not like there are a bunch of "arm trail" themed inserts in the set.
#5 – Two Many Barberies and Bagwells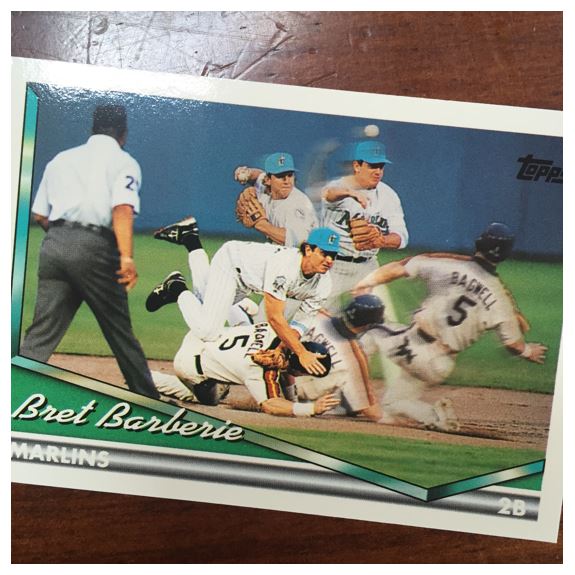 Talk about bitin' Upper Decks style. Topps is really digging into their bag of tricks.
Unfortunately, they can't really pull it off. For one player it can work, but for two players, no to much. I'm going to guess that they don't have too many pictures of Bret Barberie. In fact, there is a good possibility that this was actually a Jeff Bagwell picture that someone just happened to notice Barbarie in and then they figured out they could make a card of it. That is just one jumbled up mess of humans.
Maybe Bryan Harvey on the acid can make sense of it.
About 1994 Topps Baseball Cards
1994 Topps was a 792-card set that was issued in two series (each made up of 396 cards). Back in the day you could get a 10-card Wax Pack for $0.79 or a Jumbo Pack with 29 cards in it for $1.99. They also made Rack Packs with 33 cards per pack, but I couldn't find the original price on those. There was a gold parallel that you got at just about 1 per Wax Pack. And lastly they made a Black Gold (44 cards, 1:72) and a 1994 Finest Pre-Production (40 cards, 1:36) insert as well.
The players to highlight for the set (and how the cards are labeled) were:
Future Stars: Manny Ramirez, Cliff Floyd, Garrett Anderson, Javy Lopez, Pokey Reese
Prospects: Derek Jeter, Shawn Green, Jason Giambi, Carlos Delgado, Jason Kendall
Draft Picks: Billy Wagner
Coming Attractions: Chipper Jones/Ryan Klesko, Raul Mondesi
Overall not a lot of key cards and no significant rookies (the Jeter card is labeled as a "Prospect" and I think his Draft Pick card from the year prior is really what most people go after).