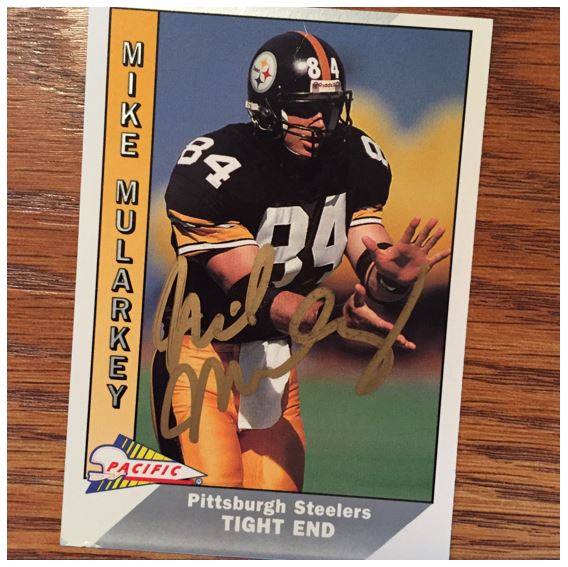 TTM Stats
Sent: 10/7/17 | Received: 10/24/17 | 17 Days
'90 Fleer, '90 Topps, '91 Pacific
Address: Tennessee Titans
The Story of the Autograph
Mike Mularkey is currently the coach of the Tennessee Titans. He's also been head coach of the Bills and Jaguars. In addition to being a head coach he's been the offensive coordinator for the Steelers, Dolphins and Falcons, and a position coach for the Dolphins and Buccaneers.
Mularkey's head coaching record has been up and down, but mostly down. In his first gig with the Bills his team started out 0-4. However, he was able to end the season with a 9-7 record that included a six-game winning streak where the Bills scored more points than any other six-game stretch in franchise history. Now considering this is a team that once had Jim Kelly, Thurman Thomas, Andre Reed and James Lofton, I think that's pretty good.
But unfortunately, there wasn't much success in Buffalo after this. 2005 brought the dueling QBs JP Losman and Kelly Holcomb (decisions, decisions…) and the team went 5-11. It would be their sixth consecutive year out of the playoffs. Mularkey resigned citing a disagreement in the direction of the organization.
After a few other coaching jobs Mike went to the Jaguars in 2012. He would be the third full-time coach in franchise history. Mularkey's Jags won 2 games that season. With two years remaining on a three-year contract, the Jags fired Mike. The GM at the time said they needed "an immediate and clean restart."
Since 2014 Mularkey has been with the Titans. First he was the tight ends coach, then assistant head coach in 2015. Mularkey would step in as interim head coach in 2015 when the Titans fired Ken Whisenhunt. Fans didn't much like that Mike was hired permanently by the team though. That said, 2016 brought a 9-7 record and saw the team just one win from a division title and a trip to the playoffs.
The Score on Mike Mularkey – 3.0


I honestly didn't think I was going to get anything from Mike. I didn't see anything that said he signed, but I thought it was worth a try. I'm glad I got these back. This is a good lesson in the gold and silver markers. They REALLY need to be dry when you put them back in the envelope. The '91 Pacific card is the best because it was on the top. The other two are where you can really tell how much the gold wore off. And it wore off on the backs of the other cards.
I think if this turned out well it would be a 5 or so. And I really like the effort with doing something different and using a gold marker. But I think the smudging and stuff is too much. I'm knocking these down a couple pegs for that.
Thanks Coach! These get a 3.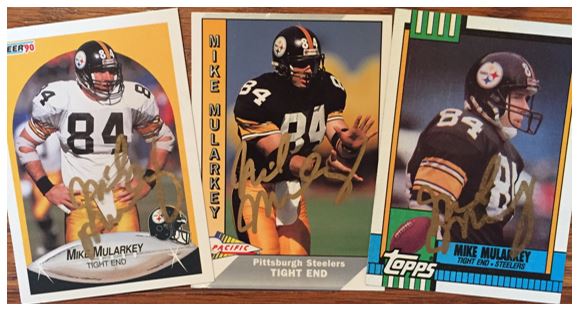 >>> READ MORE ABOUT MY AUTOGRAPH SCORING SYSTEM <<<
Thanks for visiting BravestarrCards.com: Card Collecting and TTM Autographs.