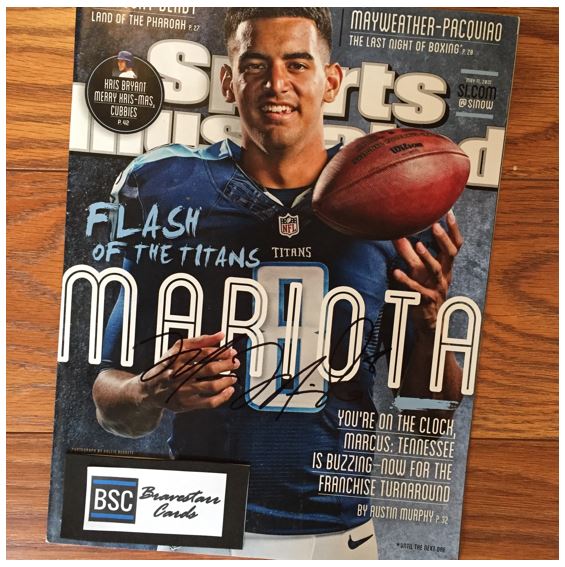 TTM Stats
Sent: 10/2/17 | Received: 11/18/17 | 46 Days
Sports Illustrated 5/11/2015
Address: Tennessee Titans
The Story of the Autograph
For more about Marcus, check out the a previous post for another Sports Illustrated he signed. Since we focus on his early days last time, let's look at him as a pro so far.
Marcus was drafted in 2015 as the second overall pick in the draft by the Tennessee Titans. He started from day one and in his first game he actually faced the number one pick in the draft – Jamies Winston and the Tampa Bay Bucs. The Titans won 42-14 and Mariota threw for 209 yards and four touchdowns. He had a perfect passer rating and was the first QB to do that in his first game. He was also the first QB to throw four touchdowns in the first half of his first game. And then add to all that that he was the youngest player ever to achieve a perfect passer rating. He would follow this effort up losng the Browns and 2012 Heisman winner Johnny Manziel 28-14 and throwing for 257 yards and two touchdowns. He ended up with a pretty good year overall but only played in 12 games.
2016 was a much better year statistically for Marcus and for the Titans in their record. The Titans went 9-7 but missed the playoffs. Marcus set highs in passing yards and touchdowns. He passed for 3,426 yards and threw 26 touchdowns with only 9 interceptions. Again though, Marcus didn't finish the surgery after fracturing his right fibula in a Christmas Eve loss to the Jaguars.
2017 has been OK for Marcus but he's battling injuries again. This time he seems to be having some hamstring injuries.  He's had a few tough games but the Titans are in the hunt and trying to break their eight-year streak of missing the playoffs.
The Score on Marcus Mariota – 8.0


The last Marcus Mariota that I got was on another Sports Illustrated from when he was in college at Oregon. That one had a lighter/brighter feel to it and it took the autograph a lot better. This on is very dark and while he used a great marker, it's not thick and the dark nature of the cover really makes it hard to pick out the autograph. And I really like Marcus' autograph.
I'm going to give this one an 8 this time. The autograph is great but the cover isn't great for a signature in black. Plus the last one had a great "Go Ducks" inscription on it as well.
Thanks Mr. Mariota!
>>> READ MORE ABOUT MY AUTOGRAPH SCORING SYSTEM <<<
Thanks for visiting BravestarrCards.com: Card Collecting and TTM Autographs.