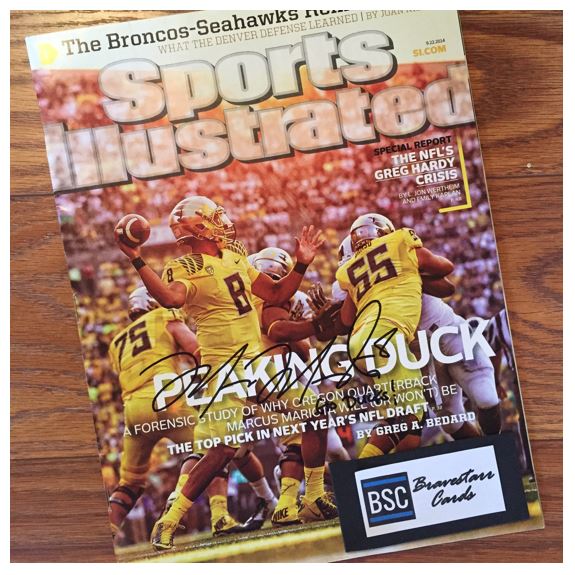 TTM Stats
Sent: 7/31/17 | Received: 9/30/17 | 60 Days
9/22/2014 Sports Illustrated
Address: Tennessee Titans
The Story of the Autograph
Marcus Mariota is currently the quarterback of the Tennessee Titans. He was born in Hawaii and played college ball for the Oregon Ducks where he started from 2012 through 2014. As a junior Marcus was the Heisman Trophy winner (the first Hawaii-born athlete to win it).
Would it surprise you if I told you that Marcus was a two-sport star in high school at Saint Louis School in Honolulu? Probably not. Football wasn't really something that stood out for him until he started in his senior season and led his team to an 11-1 record with 32 TDs and only five interceptions. And I don't think it will surprise you that the second sport he excelled at was track. He qualified for states in sprinting and jumping events. The 200 meters, long jump, 100 meters and relays were events he participated in. When you watch him out there you can really tell that he is just genuinely athletic and he really puts all those skills to use as a quarterback.
With the hope of needing to cover more about Marcus for future autographs, I'm going to leave his story here at high school. I love getting to watch this guy play, but unfortunately right now the Titans aren't really on TV around me a whole lot. I'll have to settle for highlights, which there seem to be a lot of when he is healthy.
The Score on Marcus Mariota – 8.5


This might be one of my favorite SI covers. The angle, the sun, the crazy yellow uniforms and even the somewhat transparent SI font all make for something pretty cool. I am so glad he sent this back and I know I'll be sending out another to him soon.
As for the autograph, I love that too. First of all, it's big. I love it when you can use a lot of space on what you're signing. Those "Ms" look pretty cool too. Again, a matching capital letter name almost never fails for a signature. He used a good marker and he didn't go with blue. It would have stood out, but it also would have stood out in a bad way I think. Then there's the inscription with his number and "Go Ducks!" below it. If there is anything I'd say that hurts it is signing over other words, but really where else would be put it. This look awesome and I'm really psyched it came back.
Thanks Mr. Mariota, this one gets an 8.5 and I hope to get another like it in the future.
>>> READ MORE ABOUT MY AUTOGRAPH SCORING SYSTEM <<<
Thanks for visiting BravestarrCards.com: Card Collecting and TTM Autographs.