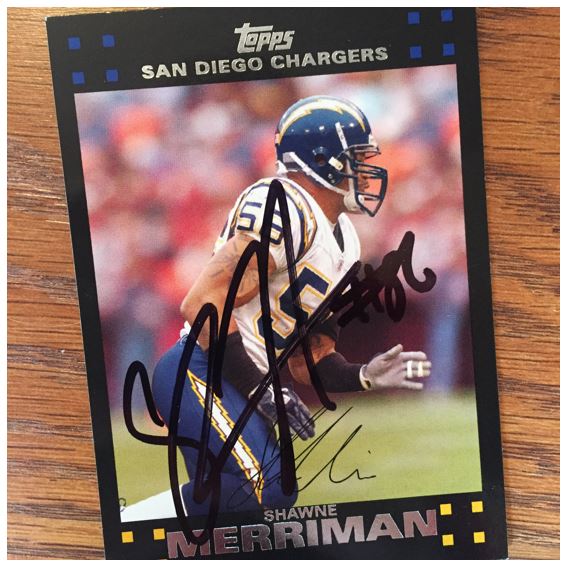 TTM Stats
Sent: 11/3/17 | Received: 11/17/17 | 14 Days
'07 Topps
Address: Patriot Motorsports Group
The Story of the Autograph
Shawn "Lights Out" Merriman played linebacker in the NFL from 2005 through 20012. He played for the Chargers for 6 years and then the Buffalo Bills in the last three years of his career. He had some really successful years in San Diego but towards the end of his career injuries caught up with him a bit and limited his playing time.
Merriman was a three time Pro Bowler in San Diego and a three time All-Pro. He was the AP and PFWA Defensive Rookie of the Year in 2005 as well as the Sporting News Rookie of the Year. Then in 2006 he followed those accolades up by becoming the 2006 NFL sacks leader.
I've lived in the DC area for almost 20 years now and I remember Merriman playing in college for the Maryland Terrapins. He is originally from Upper Marlboro, MD and went to Frederick Douglass High School. The way he got his nickname, "Lights Out," was by knocking four players unconscious in one game in high school. He also played basketball pretty well in high school too.
He stayed home to go to Maryland despite being heavily recruited around the country. He had a good freshman year and battle injuries his sophomore year but played every game. Then in his junior year he played well enough to make the ACC All-Conference team and was named the Iron Terp for being the "strongest poun-for-pound player" on the roster. If you see pictures of him in is playing days you can totally believe it.
These days Shawne works with Patriot Motorsports Group and he owns a race car int he NASCAR K&N Pro Series West. He also runs a fashion line called Lights Out.
The Score on Shawne Merriman – 5.0


Shawne has an "initial" signature in that he really just rights his initials. He also include his number though (56). He uses a good marker and he definitely uses the space on the card and signs big. I think its a good signature overall. There really isn't much too it but when you look at it with the number it looks a little more involved.
Thanks Mr. Merriman. I'm giving this a 5.
>>> READ MORE ABOUT MY AUTOGRAPH SCORING SYSTEM <<<
Thanks for visiting BravestarrCards.com: Card Collecting and TTM Autographs.