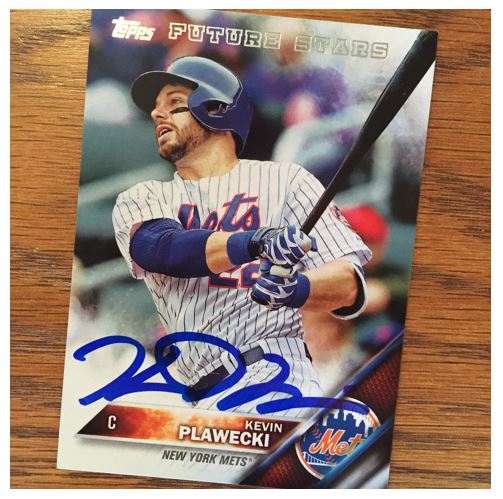 TTM Stats
Sent: 8/16/17 | Received: 9/13/17 | 27 Days
'16 Topps
Address: Las Vegas 51's (but returned from New York Mets)
The Story of the Autograph
Kevin has been up and down to the majors thus far in his career. His defense isn't really the issue, its the fact that he can be consistent with his bat. It seems like he's had some success late this year. So far he's had Travis d'Arnaud in front of him and then Rene Rivera, but since the Mets traded Rivera, Plawecki's been back with more consistency.
Plawecki was a first round pick out of college in 2012 after having success at Purdue. He usually comes up when d'Arnaud is hurt (which has been a bunch the last couple of years). He hit his first career home run off of CC Sabathia and was the first player to hit his first career home run in a Subway Series game. There was a period where he was experiencing some dizziness and he's since had surgery to address that.
This year he's actually come in to pitch in a game. Unfortunately I was there to witness the 23-5 drubbing at the hands of the Nationals. He threw only fastballs and gave up four runs over two innings, one of which was the third home run of the game for Anthony Rendon.
I follow him on Instagram and Kevin and all I can tell you is that he loves his dog.
The Score on Kevin Plawecki – 6


I'm trying really hard not to show a Mets bias on this one. I like Kevin's autograph a lot but I think you could make an argument that it isn't distinguishable as his name. That said, it is an distinguished autograph to me. The blue really goes great with this particular card and the blue that it has in it. He used a great marker and its strong and even all the way through. I really like the 2016 Topps cards for that little bit of a spot for people to sign where the name and position are. It just takes an auto well.
I'm giving this one a 6. Something I really like was that I sent this to Las Vegas and he sent back from New York. That's taking care of your fans right there.
>> READ MORE ABOUT MY AUTOGRAPH SCORING SYSTEM <<<
Thanks for visiting BravestarrCards.com: Card Collecting and TTM Autographs.