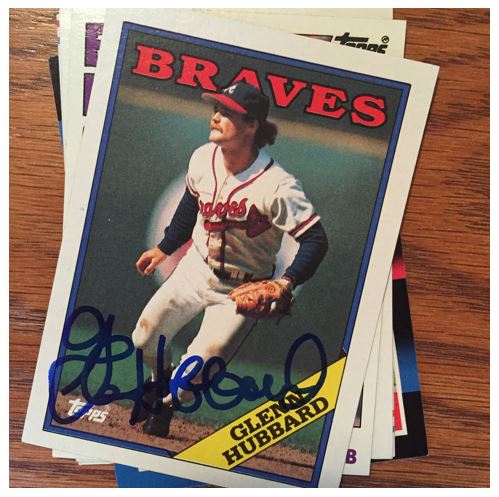 TTM Stats
Sent: 7/7/17 | Received: 9/11/17 | 64 Days
'84 Topps, '88 Donruss, '88 Fleer, '88 Topps, '89 Topps
Address: Lexington Legends
The Story of the Autograph
Glenn Hubbard is a Brave. Yeah, I know he spent two years with the Athletics, but he is a Brave through and through. He spent '78-'87 in Atlanta as a player and then worked there as a coach from '99-'10. His best season as a player was most definitely 1983 when he was an All-Star at second base. He was more known for his fielding than his hitting though. He actually holds several defensive records with the Braves organization.
If you want to get technical, he was born in Germany, but really he was an Army brat and grew up in a couple places including California and Oregon. He had a beard a lot of the time which wasn't always in fashion. Vin Scully and Joe Garagiola talked a lot about it during the broadcast of the All Star game in 1983.
I really need to find his '84 Fleer card where he is holding a boa constrictor around his neck and get that card signed.
The Score on Glenn Hubbard – 5


Glenn has a bit of a wobbly signature I guess you could say. Its kind of a mix of loopy and little kid writing in a way. His "G" in his first name is really crazy. But overall, Mr. Hubbard delivers a quality signature on every card. There's some bleed on couple and maybe a smudge, but the bleed is the card and not him. Good size and good marker on all of them.
Thanks for taking the Mr. Hubbard. I'm giving these a 5.

>>> READ MORE ABOUT MY AUTOGRAPH SCORING SYSTEM <<<
Thanks for visiting BravestarrCards.com: Card Collecting and TTM Autographs.