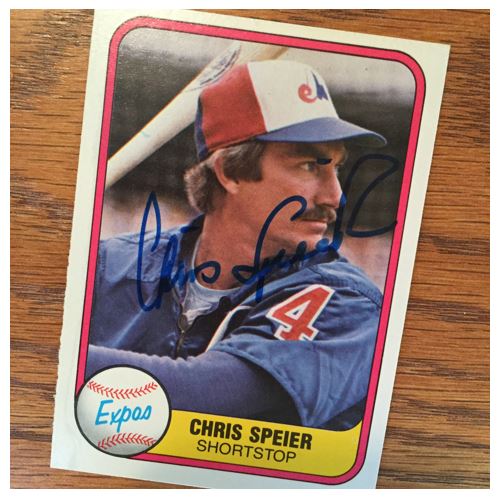 TTM Stats
Sent: 8/19/17 | Received: 9/13/17 | 24 Days
'81 Fleer, '83 Topps, '85 Topps, '89 Topps, '90 Topps
Address: Washington Nationals
The Story of the Autograph
Chris played shortstop for the Giants, Expos, Cardinals, Twins, Cubs and then again with the Giants to finish out his career. He was a three-time All-Star with the Giants in the early to mid-70's. He wasn't fabulous at the plate but he was a good fielder.
Since retiring as a player Chris has coached with several teams and for the last few years he been with the Nationals. He was also a coach on Dusty Baker's staff while Dusty was with Cincinnati, I think mainly as a bench coach. With both the Reds and Nationals he is usually the one to step in when Dusty gets kicked out of a game or is out for any particular reason. In 2001 he was a coach with the World Champion Arizona Diamondbacks.
Chris is from Alameda, CA which is also the hometown of Willie Stargell, Dontrelle Willis, and Jimmy Rollins.
The Score on Chris Speier – 3.5


Admittedly, I handicapped Chris a bit with these cards. The '81 Fleer doesn't take the autograph and make it stand out as I might have hoped. But I also think that he signed these a bit high. If the signatures on almost all these were a little bit lower I think they would have been more successful. Something I noticed was the inconsistency in the signatures: the names are on different levels sometimes, the "S" has a drag to the top on some, and that final "r" is different. About that "r", its kind of od that its capitalized. Some of these have a little smear or run to them, but I think on all of them its the card or just that they were put in a little wet. Its not a finger smear or anything like that.
I feel like I've gotten better back from Mr. Speier over the years, but these are still very much appreciated.  I give these a 3.5.

>>> READ MORE ABOUT MY AUTOGRAPH SCORING SYSTEM <<<
Thanks for visiting BravestarrCards.com: Card Collecting and TTM Autographs.