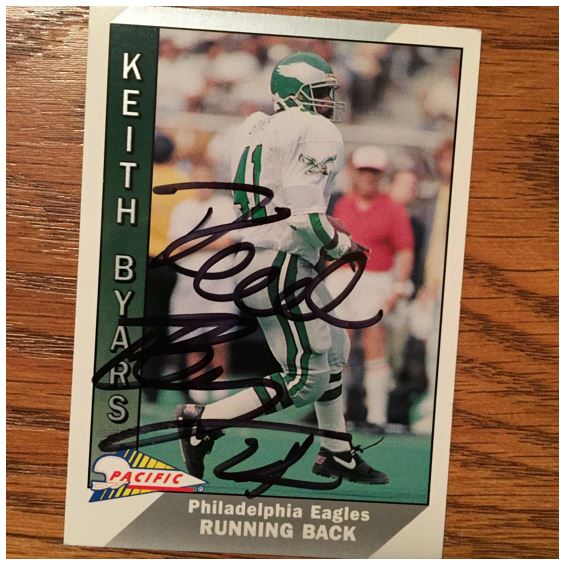 TTM Stats
Sent: 9/30/2017 | Received: 12/8/17 | 68 Days
'91 Pacific, '91 Pro Set Platinum ('90 Topps not returned)
Address: Home
The Story of the Autograph
Keith Byars played fullback in the National Football League for 13 years with the Eagles, Dolphins, Patriots, and Jets. Byars hails from the state of Ohio and attended THE Ohio State University.
Mr. Byars had a lot of success in college. He played in the Buckeyes backfield from 1982 through 1985. In 1984 he was the Big Ten MVP and finished second to Doug Flutie in the Heisman voting after gaining a school record 2,441 all purpose yards. Against Illinois that year he score five touchdowns including one with :36 left in the game to lead the team back from a 24-0 hole to start the game. On one long run for 67 yards he even lost his shoe and still went on to score.
The Eagles drafted him in 1986 with the 10th pick in the first round of the draft. He went on to be an All-Pro in 1990 and made the Pro Bowl in 1993 (with the Dolphins). Byars was someone who could do it all in the backfield. He ran, he blocked he could catch…, and even played some tight end. He had a few years where he would be in the top 10 in receptions. He appear in a Super Bowl with the Patriots in the mid-90's but they would lose to the Packers. He did catch four balls for 42 yards and scored though.
Keith works on the radio out of Dayton these days and also works on broadcasts for Ohio HS football.
The Score on Keith Byars – 5.0


I like the size of Keith's signature. He really goes big with it. It's a surprisingly loopy style. The beginnings of his names look a bit jumbled but you can see what he's signing. He puts his number with his signature but on the Pacific card it's a little messed up.
Like I said, Keith signs big. He also used a great marker and there's no smudges. Thanks Mr. Byars. These are solid and I'm giving them a 5.0.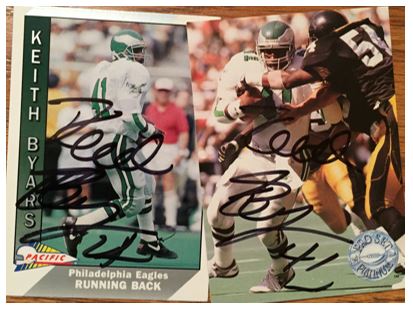 >>> READ MORE ABOUT MY AUTOGRAPH SCORING SYSTEM <<<
Thanks for visiting BravestarrCards.com: Card Collecting and TTM Autographs.