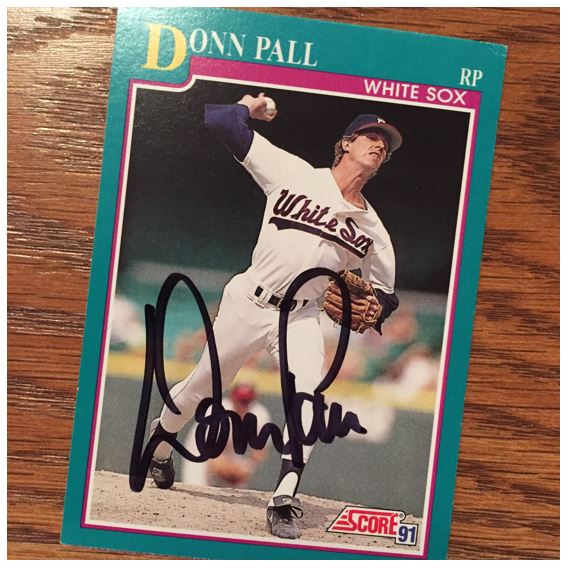 TTM Stats
Sent: 8/19/2017 | Received: 12/7/17 | 108 Days
'90 Donruss (2), '90 Upper Deck, '91 Score
Address: Home
The Story of the Autograph
Donn Pall pitched in the majors for 11 years and spent that time with 5 teams. The majority of time he spent with the White Sox in the beginning of his career. After leaving Chicago he spent a year each in Philly, New York (with the Yanks) and back to Chicago, but this time with the Cubs. Then he closed out his career for a few years with the Marlins.
Donn grew up a White Sox fan so it must have been great to start his career with the Sox. He went to Evergreen Park High and then on to the University of Illinois. He was nicknamed "The Pope."
Pall was strictly a reliever throughout his career and made the most appearances between 1989 and 1991 in Chicago with each of those years seeing him make over 50 appearances. His best year looks like it would be 1991 when he went 7-2 with a 2.41 ERA, appearing in 51 games and throwing for 71 innings. One of the numbers that sticks out a bit is that he hit 8 batter in 1989 and that was 5th in the league in that category. Probably not a list you want to be on, but he never had a year quite like that again in that department.
The Score on Donn Pall – 5.5


Donn has a pretty standard autograph. I would say the thing that holds it back are the cards. The '91 Score is the best. The picture is lighter or brighter than the others so it takes the autograph well. But I don't even think the picture below captures how dark the Upper Deck and Donruss cards are.
He's got some really great caps going and you can really pick out his signature. Donn used a great marker and I love how much space he used.
Great job Mr. Pall and thanks! These get a 5.5 overall.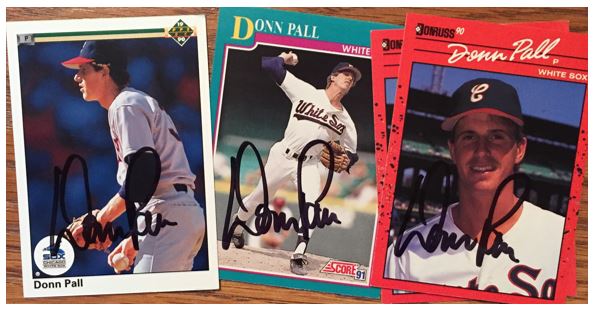 >>> READ MORE ABOUT MY AUTOGRAPH SCORING SYSTEM <<<
Thanks for visiting BravestarrCards.com: Card Collecting and TTM Autographs.