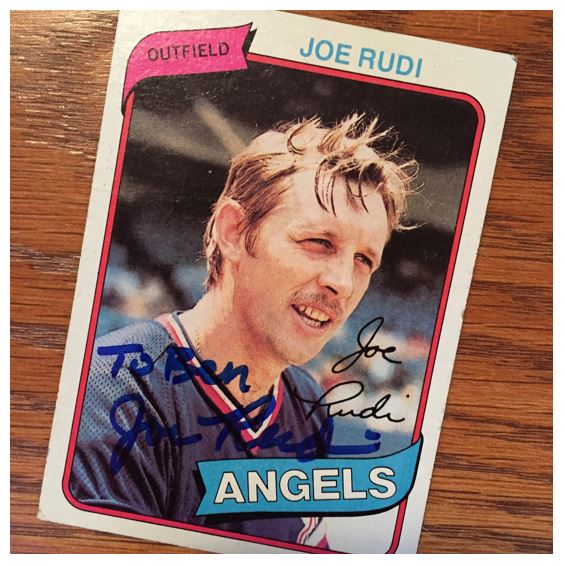 TTM Stats
Sent: 8/4/17 | Received: 10/10/17 | 66 Days
'75 Topps, '78 Topps, '80 Topps, '81 Topps, '83 Topps
Address: Home
The Story of the Autograph
Joe Rudi played left field for the Athletics (in Kansas City and Oakland twice), the Angels, and the Red Sox. Over his 16-year career he was a .264 hitter with 179 HRs and 810 RBI. He was an All-Star in 1972, 1974 and 1975; won the Gold Glove in three consecutive years (1974-76); and was a part of 3 World Championship Athletics team from 1972-1974.
1972 was one of his best years with a .309 average and 181 hits. He made some great plays in the field in the postseason too. With Oakland leading 2-0 and a man on first he made a leaping, backhanded grab to save a run. This was the same game he had a solo home run too. He caught the final out of the series on Pete Rose's fly ball.
1974 was his best year for power with 22 home runs and 99 RBI. He hit the game winner and series clinching home run of the World Series off of Mike Marshall. The A's run of three straight World Series Championships made them the first team since the late 40's – early 50's Yankees to win three straight.
In the early days of free agency, the A's owner Charlie Finley attempted in 1976 to sell Rudi and Rollie Fingers to the Red Sox. He was at risk of losing them at the end of the year. Rudi actually went to the Red Sox and got a uniform, but wasn't permitted to play. Bowie Kuhn, the commissioner at the time voided the transaction. Rudi would end up playing in Boston in 1981. I wonder if it was the same uniform…
Rudi did leave the A's and ended up with the Angels. Unfortunately Joe ended up having a lot of injuries during his time with the Angels. His best year with them would have been 1978 (.256, 17 HRs, 79 RBI). But with the injury bug, he missed the Angels postseason appearance in 1979. Before the end of his career he did go back to the A's in 1972 and he hit a home run in his last major league at-bat.
The Score on Joe Rudi – 5.5


So apparently I can't write. This is my wake-up call. Joe personalized all of these cards and that is completely fine. Unfortunately he personalized them to "Ben" and I don't know anyone named Ben. It's even funnier that in a John Farrell failure return, the letter was addressed to Ben as well. So I need to fix how I am writing my name on these letters and envelopes. I don't think I've ever run into the problem before.
Mr. Rudi has a solid signature. You can actually see that he has a standard way to sign, but when you look at the '83 Topps card you can see that he will adjust to the card if he needs to. He uses a good pen, but is signature isn't big. It fits on the card though with the personalization. It's pretty consistent with those pre-printed signatures on the '75 and the '80 Topps cards.
This is a first return from Mr. Rudi and I definitely appreciate it. If I try again I will print my name better. I'm giving these cards a 5.5. That's probably a little bias for the wrong name, but I tried to avoid that.

>>> READ MORE ABOUT MY AUTOGRAPH SCORING SYSTEM <<<
Thanks for visiting BravestarrCards.com: Card Collecting and TTM Autographs.