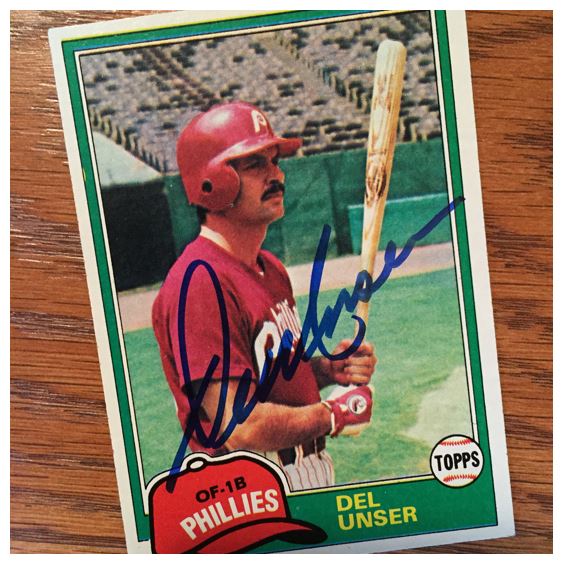 TTM Stats
Sent: 9/14/17 | Received: 10/10/17 | 26 Days
'77 Topps, '80 Topps, '81 Topps
Address: Home
The Story of the Autograph
Son of former Major League catcher Al Unser, Del Unser spent 15 year in the Majors (1968-1982) as a center fielder and utility player for the Senators, Indians, Phillies (twice), Mets, and Expos. One of his stints with the Phillies was in 1980 and he won a World Series while he was there. He played the outfield to start his career until he got to Montreal where he started to be used at first base as well, but also was used a lot as a pinch-hitter.
From a statistical perspective, Unser's career numbers are a pedestrian. He hit .258 for his career with 87 HRs, 481 RBI, and 64 SBs. But in 1968 with the Senators he was actually second in the AL Rookie of the Year voting to Stan Bahnsen of the Yankees (the race in the NL that year was between Bench and Koosman). It looks like maybe 1975 with the Mets was one of his better years where he almost touched .300 by batting .294 (he had an injury that year that probably impacted that a bit) or possibly 1977 with the Expos. But he hit when it counted as he had a .455 average in 11 at bats in the 1980 postseason.
Something I found interesting in his numbers were regarding his speed. I think we normally think of a center fielder as at least somewhat speedy, but I don't know that Del was (by the numbers anyway). But when I think of speed I think of stolen bases and maybe triples (although errors and parks can cause those as well). In 1969 Del led the league in triples with 8, yet he had 8 stolen bases.
The Score on Del Unser – 6.0


I'm pretty happy with this return. This was one of the newer addresses that I picked up over the last few months and I've been having a good success rate with them. Del has a great signature and he really makes it fill up the card for the most part. Its interesting that his signature almost look like one word and you really could fit it in a pennant-like triangle. The '81 Topps card is my favorite. I like the card itself because of the quirky color with the Phillies having the green border, but it actually goes with the greens in the background of the card. The signature really just comes out the best on this one though. Plus I like having the signature of a guy on the card year or the year after they win a World Series or get an award. I think what I noticed on these is that the marker seemed a bit dull.
Nice solid signature. I appreciate the return Mr. Unser and I give these a 6.
>>> READ MORE ABOUT MY AUTOGRAPH SCORING SYSTEM <<<
Thanks for visiting BravestarrCards.com: Card Collecting and TTM Autographs.