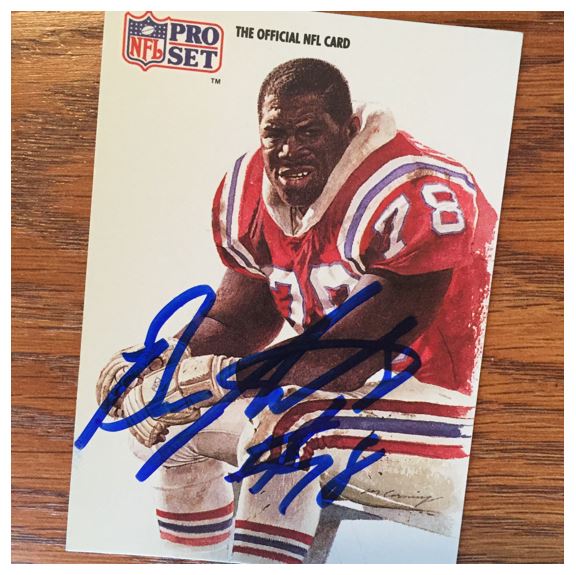 TTM Stats
Sent: 9/28/17 | Received: 10/7/17 | 9 Days
'91 Pro Set, '94 Stadium Club
Address: Home
The Story of the Autograph
Bruce Armstrong played offensive tackle for 14 seasons, all of them with the New England Patriots. He was drafted out of Louisville in the 1987 NFL draft after his four years at the school. He was named "Most Outstanding Lineman" after his senior season.
He played in six Pro Bowls (1990, 1991, 1994-1997) and was a Second-Team All-Pro twice (1988, 1996). There are actually only two other Patriots offensive lineman to play in more Pro Bowls than he did. There are 22 Patriots in their Hall of Fame and only seven players have had their number retired, Bruce fits into both of those categories.
Armstrong played in 212 of a possibly 220 games (not counting strike games) and the last 118 of those games he played consecutively. Consider that the games he missed were due to him tearing his MCL, ACL and PCL in his right knee in 1992 and that it was thought to be career ending, that's very impressive. I think that right there shows how tough a man he is and how dedicated he was to the sport and his teammates.
The Score on Bruce Armstrong – 5.5


Bruce has a pretty good signature with his initials really being prominent. I think that's probably a key factor in any good signature. I also like that he uses his number in the signature. I really like the Pro Set card for this because that bright blue marker he used really sticks out. For the other card it just kind of muddles it up because of those mid-90's blue pats uniforms.
Overall I think this one is solid. Thanks Mr. Armstrong. I'm giving these a 5.5.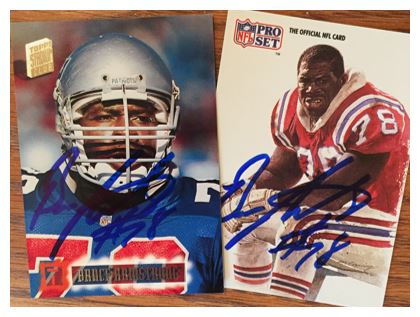 >>> READ MORE ABOUT MY AUTOGRAPH SCORING SYSTEM <<<
Thanks for visiting BravestarrCards.com: Card Collecting and TTM Autographs.