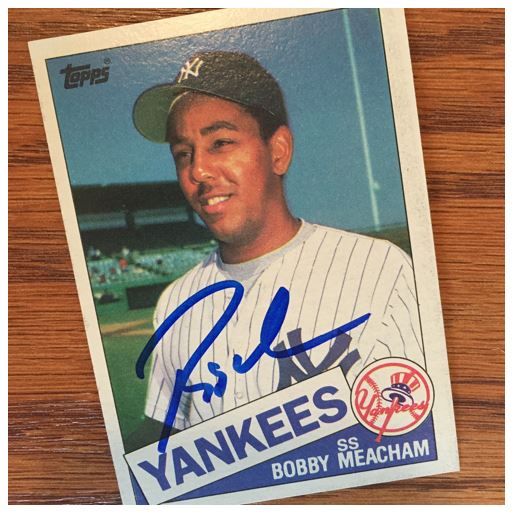 TTM Stats
Sent: 8/4/17 | Received: 8/18/17 | 14 Days
'85 Topps, '88 Donruss, '88 Topps, '89 Topps
Address: Home
The Story of the Autograph
Bobby Meacham played his whole career with the Yankees and is currently the manager of the Buffalo Bisons. Meacham started his career in the minors with St. Louis, but when you have 47 errors and are behind Ozzie Smith, you are not getting to the big club. The Cardinals traded Meacham to the Yankees. He never really played a whole lot and had some trouble with injuries. This of course frustrated Steinbrenner who would often lambast him in the NY press. Bobby was then traded to the Rangers, but never made the club and failed in other attempts to make it back to the show.
The Score on Bobby Meacham – 5.5


I included the '85 Topps as my featured image because I think that's a card I haven't gotten autographed too much, plus I think it might have been Bobby's best year. But really any of these cards looks good. The only one that's off is the '88 Topps. I purposefully sent that one with a gum stain. Not to try to be cool somehow, but because when I send to a guy for the first time I don't always send the gems. I like Bobby's signature is pretty cool, but definitely tails off on the legible-ness (if that is a word). That's not a requirement at all. But I think I'll give him a 5.5, pretty average.

>>> READ MORE ABOUT MY AUTOGRAPH SCORING SYSTEM <<<
Thanks for visiting BravestarrCards.com: Card Collecting and TTM Autographs.