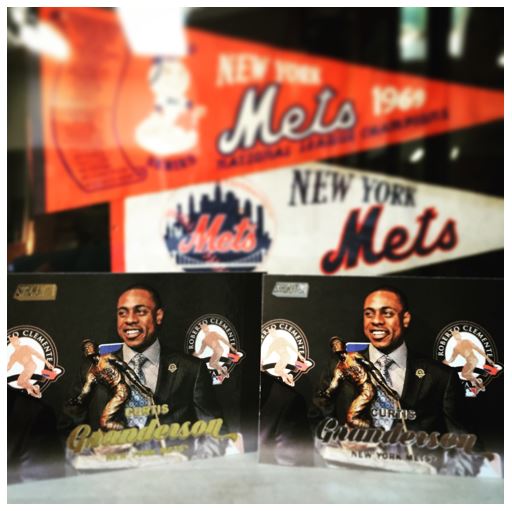 It's been a rough year for my boys in Flushing. Things just haven't turned out the way we thought it might. The latest sign of this (ahem! apart from the record…) is that last night Curtis Granderson was traded to the Los Angeles Dodgers. Duda, Reed, Bruce, Walker and now Grandy are all gone. For the team's future these all make sense and I'm not going to be upset about the business of baseball. When a guy isn't signed through the next year, or has a year left and your team is headed downhill (or already in the valley) this is going to happen.
For Bruce and Walker I didn't like that they had to happen, but they both weren't in NY long enough for me to get to attached to. Reed was a little tough because he was such a big part of the end of the 2015 season and the run to the Series. Duda was tough because he was such a class act and good guy and he'd been with the organization for a while, his whole career. But even though Grandy might not have been a Met long enough to be known as a Met across his career, he still feels like something special and I really don't like losing that.
Grandy, The Ballplayer
The Grandyman came over after being with the Yankees in 2013. That was a year in which he only played 61 games for the team due to injuries. He signed for four years in the offseason and ended up playing in 148 games in the 2014 season. The team was still toward the bottom of the NL during that time, but there were some promising players coming up. Then in 2015 he helped lead the team to the World Series. As the primary leadoff hitter he led the team in games played, runs scored, hits, stolen bases, walks, on-base percentage and total bases. He tied a single game postseason team record with five RBI in the NLDS. He was great in the World Series too. 2016 was a little bit tougher and somehow he had an amazing HR to RBI ratio (in a bad way), but he was the leadoff hitter. I don't think Curtis is ever the best player on your team, but he sure is damn good.
Curtis brought a veteran presence to the club when we had a lot of young guys who needed it. Duda even talked about how much Curtis has meant to him. Plus he always looks like he is having fun on the field and if you watch him play he seems so quirky at the plate or when he gets to second on a double, just watch him checking where the outfielders are before taking a lead. He interacts with the fans while in the batting circle and gives fist bumps to kids. The guy is awesome on the field. He loves the fans and shouts out The 7 Line Army all the time. He even did it in his farewell post on social media. That along makes it so fun to root for him. Then he goes and hits a Grand Slam the other night when we tried to come back from 7-0 down against the Yankees. The guys is clutch too. Again, all reasons to be a fan.
Curtis, The Man
No matter how much Grandy is a guy I like to root for on the field, Curtis is an even better man off the field. I am always going to be a Curtis Granderson fan and the Dodgers (and Dodgers fans) are lucky to be getting him. I know I said he may not be the best player on any team, but he sure is the best man, the best human being on any team. Hands Down!
Curtis has been a representative for MLB international and has travelled to England, Italy, the Netherlands, France, South Africa, China, New Zealand, South Korea and Japan to promote baseball. Bud Selig wrote to him that, "There are so many fine young men playing Major League baseball today, but I can think of no one who is better suited to represent our national pastime than you."
He has a foundation called Grand Kids Foundation that raises money to benefit the educations of inner-city children around the country. Nike, Louisville Slugger and Rawlings all endorse him and he's asked them to donate money or equipment to his inner-city baseball programs rather than pay him. This is only part of what he does and to prove it, the MLBPA made him the 2009 Marvin Miller Man of the Year and MLB made him the 2016 recipient of the Roberto Clemente award. Heck, its his 2017 Stadium Club card.
What does this guy not do! He lives to help people. He uses his baseball talent to help the world. What's not to like!
Good Luck Grandyman!
I'll miss Grandy, but I'll always be rooting for him. I'm not sure how you can't. I hope he helps the Dodgers to something special this year, and I would love it if he is the guy who makes it special.