That's it! I… can't… take the pressure… any longer…
Must… try… to resist… urge…
Pressure… Building…
Can't hold off… Can't do it anymore…
Posting… about… Aaron Judge… cards…
**Heaving Breaths**
Stadium Club, um, Club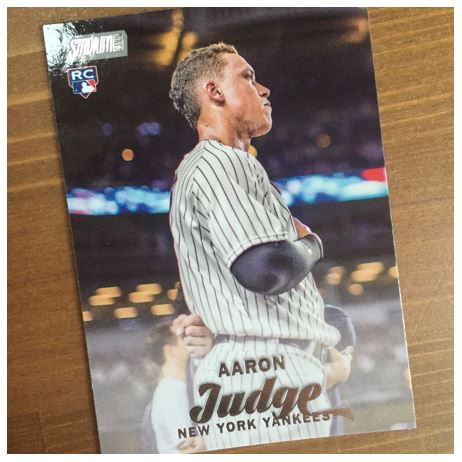 I've joined the Stadium Club club. Unfortunately I didn't get a members only version or any other parallel, just a simple base card. But it's still nice to join the "I have an Aaron Judge card now" club. Of course Stadium Club looks pretty dope. The pictures are for the most part great and inventive. I feel like I'd like to have something showing his size because that's one of Judge's calling cards. Maybe the lower shooting angle does that, but not for me. Great cards though, glad I got this one.
The Judge Archives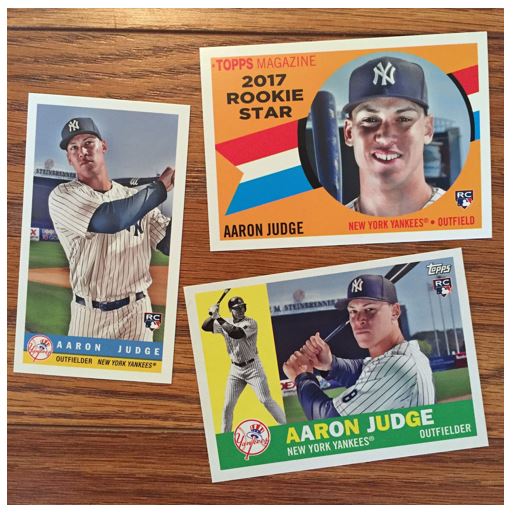 The Judge jackpot I hit was actually in the only Topps Archives blaster I opened. I should rephrase that, the only Topps Archives blaster that I have seen all year any place I have been. That's probably another story though.
My favorite is the '59 Bazooka. I love just about any card of that size. I would say it's funny that Gypsy Queen had an insert like this, but it's all the same company so…. The Rookie Star cards are pretty cool as well and I like that that's been a consistent design.
Can you guess what day the pictures were taken on? Answer: the same one. I think he moved his feet maybe twice not counting walking to his spot and walking away.
Photographer:  "Good, you're facing us. Let's get that head shot."
Photographer:  "OK now start your swing. Great!"
**shifts feet**
Photographer:  "OK now let's make that swing. Yes! Thanks Adam."
Judge:  "Um, it's Aaron. Is that it?"
Photographer:  "Ha ha, rookies, amirite! NEXT!!!
OK, maybe once.