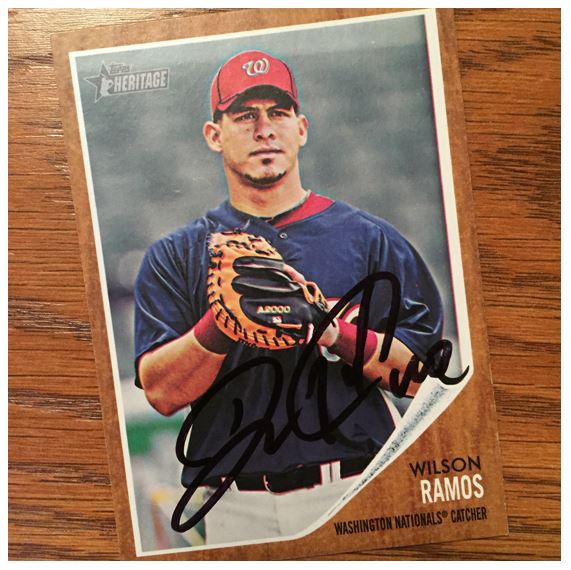 TTM Stats
Sent: 7/19/17 | Received: 10/16/17 | 87 Days
'11 Topps Heritage
Address: Tampa Bay Rays
The Story of the Autograph
Wilson Ramos is a catcher who started his career with the Twins in 2010. He then moved on to the Nationals where he played until 2016 and then joined the Rays through free agency for the 2017 season. His nickname is "The Buffalo." There's two stories floating around about it. One story goes that hitting coach Rick Eckstein gave him the name in 2012 because he was a bit heavy. The other story that Ramos has told is that Ian Desmond gave him the name because he's always behind the plate and gets beat up and stays in there. I feel like the first is more likely.
While Ramos started with the Twins, there weren't many places for him to go. While in the minors he had to wait for Joe Mauer to either move or get hurt. That happened in 2010. His first game he went 4-5 with three singles and a double and became the first Twins player since Kirby Puckett to get four hits in his first game and the only catcher in the modern Era to do so. He played in seven games and went back down to the minors. On July 29, 2010 he was traded to the Nationals.
He had some injury issues throughout his time in Washington with an ACL tear in 2012 and a hamstring injury (twice) in 2013. But he finished 2013 really well and was the starting catcher by the end of the year. 2014 came and another inury hit – he broke is left hand on opening day on a foul tip. 2015 was a pretty good year and 2016 was even better. It was his best year yet with a .307 average, 22 HRs and 80 RBI. But right at the end of the year he tore his ACL. He was an All-Star and won the Silver Slugger Award.
That ACL tear impacted his free agency. Before that I have a feeling the Nationals would have loved to have him back, but that put a bit of uncertainty on his career. Ramos signed with the Rays in the offseason and got back to the bigs in June. He ended the season pretty well and I think he could really help the Rays next year.
In 2011, Ramos was abducted in near his home in Valencia, Venezuela. He was rescued after two days later. Being in DC for a while I can tell you this was huge news in these parts.
The Score on Wilson Ramos – 6.5


I like the signature but I am a bit torn. I normally like to be able to understand it a little bit. I'm not really able to figure out the "W" or the "R". I can kind of see the end of Ramos, but it's really hard to tell. It actually looks like he starts with a "D" but would really be great if I could figure it out. It could have something to do with how his full Spanish name would be – Wilson Abraham Ramos Campos.
I didn't really think I was going to get this back with it being mid-season and all and with him not being with the team the whole year. But I'm glad I got it back even though I feel like he was a Mets killer over the years (I especially felt like that last year when he was on a year-before-free-agency tear).
Thanks Mr. Ramos. Solid, yet not decipherable…6.5.
>>> READ MORE ABOUT MY AUTOGRAPH SCORING SYSTEM <<<
Thanks for visiting BravestarrCards.com: Card Collecting and TTM Autographs.