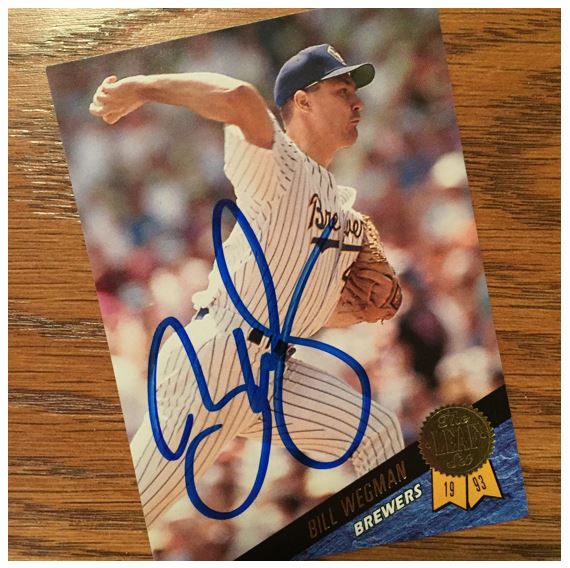 TTM Stats
Sent: 9/23/17 | Received: 10/14/17 | 21 Days
'84 Topps, '88 Donruss, '89 Topps Big, '90 Donruss, '92 Topps
Address: Home
The Story of the Autograph
Bill Wegman pitched for the Milwaukee Brewers from 1985 through 1995. This is actually a lot different than I feel like a lot of the guys I've been getting returns from lately. I feel like I've had some guys that have a different year with a different team.
Mr. Wegman was a starting pitcher for the vast majority of his career. Only in 1995 did he do any really significant work out of the pen. His most successful year by far was 1991. In that year he went 15-7 over 28 starts with a 2.84 ERA. That 2.84 ERA was far in a way the best he ever had and much better than the 4.16 ERA he put up in his whole career. He even posted two shutouts that year. Probably because of the success he had in 1991, he pitch almost 70 more innings the next year and started 7 more for 35 games in a season. That was the most he had started in his career. He ended up facing the second most batters in the AL, the second most innings in the AL, and was 3rd in the league in games started. That of course also opened him up for being toward the top of the year in categories like hits, assists as a pitcher.
You don't find many guys, especially nowadays, playing a whole career with one team. I definitely commend Bill for that. I like seeing guys do that.
The Score on Bill Wegman – 6.0


Bill has the classic large initials type of signature with a little extra for his last name. You can clearly make out the "B" and the "W" and then there's a little bit of that little "g" in there. Some of the "B's" are really great. Like the '86 Topps and the '93 Leaf. I really like the size he makes these though. Signing in blue is great for these Brewers cards two because he goes really well. Bill also sends another of his own cards that he signs as well and then he also includes a kind of religious pamphlet.
I think these are really solid. Thanks Mr. Wegman! These get a 6.

>>> READ MORE ABOUT MY AUTOGRAPH SCORING SYSTEM <<<
Thanks for visiting BravestarrCards.com: Card Collecting and TTM Autographs.