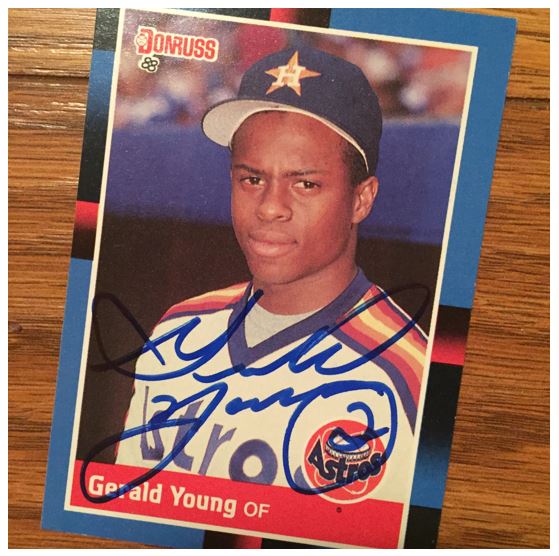 TTM Stats
Sent: 9/30/17 | Received: 10/14/17 | 14 Days
'88 Donruss, '88 Topps, '90 Fleer
Address: Home
The Story of the Autograph
Gerald Young is a former outfielder for the Astros, Rockies and Cardinals, primarily playing center field. He was born in Tela, Honduras and is the first person born in Honduras to play in Major League Baseball. He was originally drafted in 1982 by the Mets. That draft class included Rafael Palmeiro and Dwight Gooden and it set a major league record with 14 players reaching the major leagues that were all drafted by a singe team.
Young didn't stay with the Mets though. In 1984 he was traded to the Houston Astros for Ray Knight. But he still didn't make his major league debut with the Astros until 1987. And 1987 was a good year for Young when he hit .321 and stole 26 bases. He finished fifth in the Rookie of the Year voting that year. Then in 1988, Gerald turned on the jets and finished the year with 65 steals, second in the NL. 1989 was a little bit different story as his offense dipped. From that point on he split time between the major and the minors and the DL. He would always have offensive success in the minors but never for the big club and ended up leaving the Astros in free agency.
Like another recent TTM return (Bryn Smith), Young was part of the first Colorado Rockies team in 1993. He hit great in Spring Training but then sat behind some guys and could never get it going. The Rockies released him. He tried to make it in the minors wit the Reds and Mariners that same year. In 1994, Young tried again with the Cards. He hit great again in Spring Training, but the team didn't carry enough outfielders into the season and he went back to the minors. His last game was with the Cardinals in August of 1994.
The Score on Gerald Young – 5.5


There's a kind of neat symmetry to Gerald's signature with the loops at each end of this first and last name. It's not the most fabulous all the way around, but I think the thing I like best is that he slips that "2" in there and puts it in the loop of the "g" in his last name. I like the little touches like that. That right there makes up for anything else.
Mr. Young is a good signer and he signs fast, but he only signs three. Thanks! I'm giving these a 5.5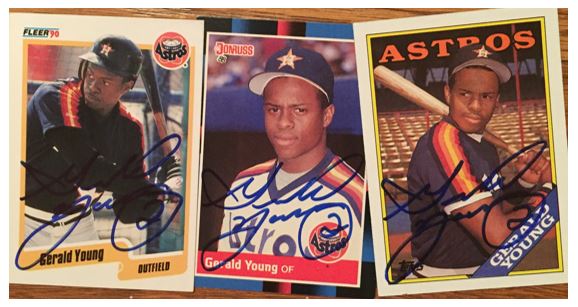 >>> READ MORE ABOUT MY AUTOGRAPH SCORING SYSTEM <<<
Thanks for visiting BravestarrCards.com: Card Collecting and TTM Autographs.