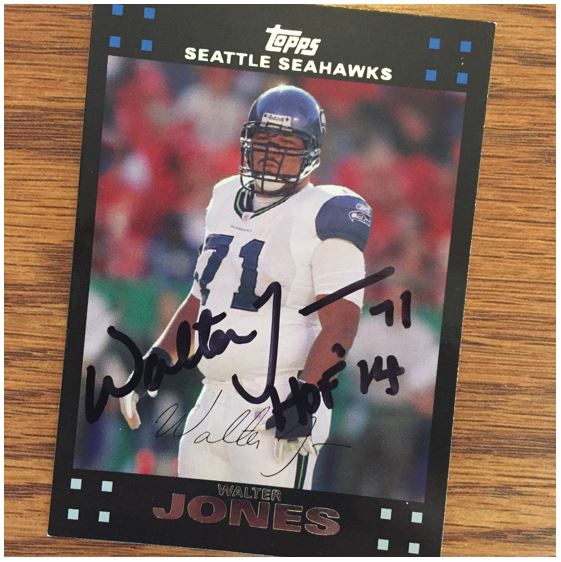 TTM Stats
Sent: 12/7/2017 | Received: 1/26/18 | 49 Days
'07 Topps
Address: Home
The Story of the Autograph
Walter Jones played at tackle for the Seattle Seahawks from 1997 through 2009. He was born in Alabama and played his college ball at Florida State University. He played for the legendary Bobby Bowden as a Seminole and earned second-team All-ACC honors after allowing only one sack in 1996. He left school a year early and entered the NFL Draft in 1997 where the Seahawks made him a first round pick and the sixth overall.
In Seattle, Jones put together a Hall of Fame career. He would start every game in which he played beginning with his rookie season. Walter would go to nine Pro Bowls including eight consecutively. He was a four-time First-team All-Pro and twice a Second-team All-Pro. He was truly one of the best left tackles during his time in the NFL and maybe one of the best to play the game ever.
In 2008 he suffered a new injury in his 180th and final game. He had surgery and tried to comeback in 2009, and after going on injured reserve that year, that was his intention. But he ultimately announce his retirement in April of 2010.
The Score on Walter Jones – 9.0


I love Walter's autograph. It has a style to it. The way he does his "J" is pretty cool too. But the best part is always going to be when you see that "HOF". Normally that's something you pay extra for or something a guy won't do when it's via TTM (heck Miguel Cabrera was asking for a couple hundred bucks for Triple Crown MVP). But Walter is a good signer and I love that he adds that in there. If you want to add a HOFer to your collection there might not be a better way.
Thanks Mr. Jones! I'm giving this one a 9. Best return of the year so far.
>>> READ MORE ABOUT MY AUTOGRAPH SCORING SYSTEM <<<
Thanks for visiting BravestarrCards.com: Card Collecting and TTM Autographs.
Information gathered using Wikipedia and Pro Football Reference.