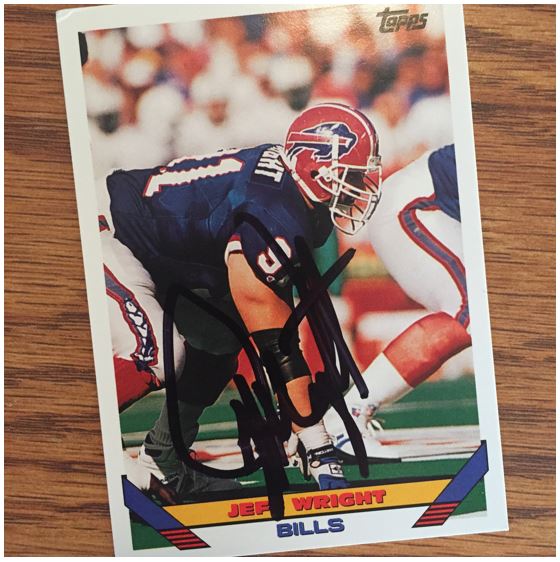 TTM Stats
Sent: 1/11/2017 | Received: 1/26/18 | 15 Days
'91 Pacific, '92 Pro Set, '93 Topps
Address: Home
The Story of the Autograph
Jeff Wright played nose tackle in the NFL for the Buffalo Bills. He spent his entire seven-year career in Buffalo (1988-1994). Jeff was fortunate enough to play in four Super Bowls. But as everyone knows, the Bills were four-time Super Bowl losers during that time.
Nose tackle is not a glamorous position. Your not going to get an interception unless you are lucky and usually you have to be known as a good runstoper rather than a pass rusher. Plus, if you have guys like Bruce Thomas, Cornelius Bennett and others on your defense, you sometimes can get overlooked. But Wright was a good player and held his own in the middle of the line.
Jeff had 31.5 sacks for his career with a high of six in both 1991 and 1994. He had at least 4.5 in five our the seven years he played. He topped 70 tackles three of the years he played with a high of 79 in 1993. He would end up with over 300 tackles for his career. He could force a fumble too with 6 forced fumbles and five recoveries over the years.
The Score on Jeff Wright – 4.0


I think if all of these cards ended up like the '93 Topps, which is the best one I think, then the score would have been higher. That one is the cleanest version of his autograph. The '92 Pro Set is obviously smudged and the '91 Pacific seems like he messed up a little bit while signing (look at the "W"). It's a solid signature, but together this just rate a little lower to me. Still appreciated though.
Thanks Mr. Wright! I'm giving this return a 4.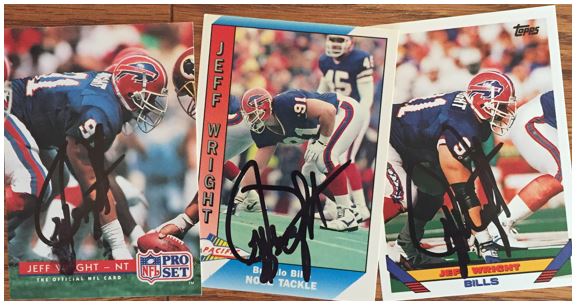 >>> READ MORE ABOUT MY AUTOGRAPH SCORING SYSTEM <<<
Thanks for visiting BravestarrCards.com: Card Collecting and TTM Autographs.
Information gathered using Wikipedia and Pro Football Reference.