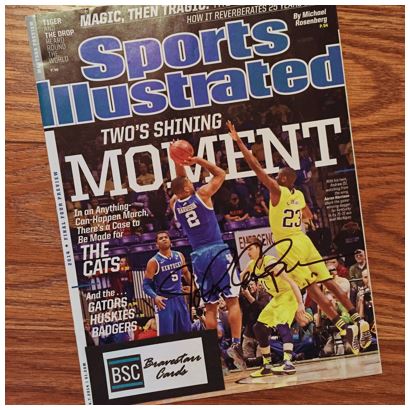 TTM Stats
Sent:  4/8/17     |     Received:  4/17/17     |     9 Days
Sports Illustrated 4/7/2014
Address:  University of Kentucky Basketball
The Story of the Autograph
I used to love Kentucky basketball, I am not so much of a fan of Calipari though. I'm just not as into the one-and-done thing and he can be a bit cocky for me. He seems to have a bit of an act with the reporters (to me anyway). But I think you have to admit that he can recruit like crazy. I would think some kids would see other kids of their high caliber talent going to a school and think, "I want to go where I am a star, not just another guy," but he seems to make them all stars. Aside from maybe a few teams where it didn't work out so well on the teamwork side of things, the 'Cats are always in the running.
The Score of John Calipari – 7


This signature is pretty strong because of it's size. You can read it which is great. This might be one of those perfectly weighted and slightly used Sharpies. I wouldn't say it's unique, but it's definitely strong on this cover. The cover however is a bit busy so that detracts from it some, although not Cal's fault. One thing I will say – this was FAST.
I think this is worthy of a 7.
>>> READ MORE ABOUT MY AUTOGRAPH SCORING SYSTEM <<<
Thanks for visiting BravestarrCards.com: Card Collecting and TTM Autographs.