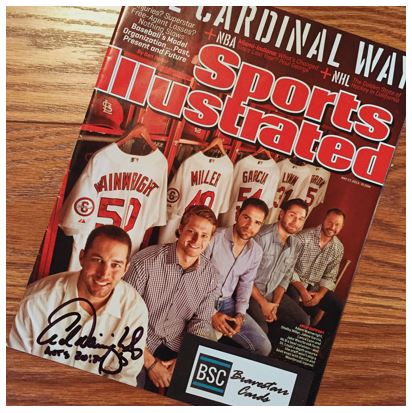 TTM Stats
Sent:  2/2/17     |     Received:  3/6/17     |     34 Days
Sports Illustrated 5/27/13
Address:  Cardinals Spring Training
The Story of the Autograph
I had this one firmly placed into the "no way" category. I didn't look up anything about Wainwright signing or not so I was definitely please when I got this one in the mailbox. Although as a Mets fan, seeing Wainwright gives me the shivers (but maybe it should be seeing Beltran with a bat on his shoulder gives me the shivers). Wainwright has an AWESOME curveball and is one of the classic "Met Killers." He's really had an amazing career and if not for some of the injuries he's had in recent years he'd be even better. Along with Yadier Molina he has got to be the face of the Cardinals of recent vintage.
The Score of Adam Wainwright – 7


The classic black Sharpie works great with this cover. While I'm not a religious person I do like inscriptions ("Acts 20:24" on this one). But the Sharpie is a bit thick for the size of the writing. I think the placement of Adam in the picture is providing any of the downside to this auto. He's in the bottom corner and there are four other guys in the shot so placement options are minimal and he did the best he could with this one. I really like his loopy signature, the W is unique and that lower case g game is strong.
The photo itself hurts the score on this one but I'll give it a 7.
>>> READ MORE ABOUT MY AUTOGRAPH SCORING SYSTEM <<<
Thanks for visiting BravestarrCards.com: Card Collecting and TTM Autographs.