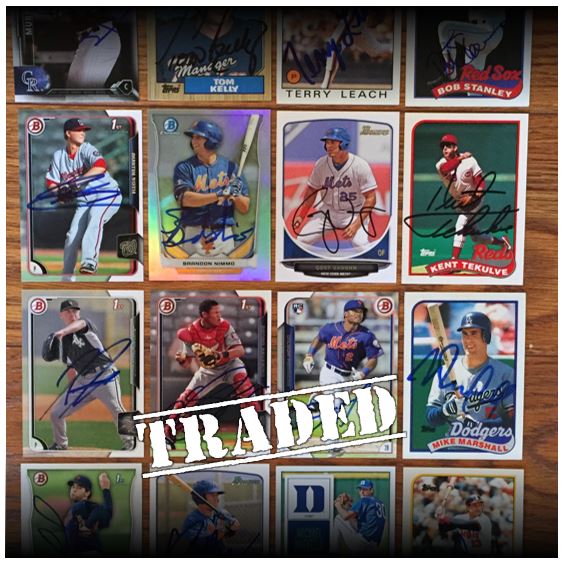 Jocs LF Hecklers (@JocsLFHecklers) on the old tweeter put out the call for some '89 Topps he was looking for. Well, I definitely had some doubles and some things I was willing to part with. After a little correspondence we nailed down a few from '87 Topps, '88 Topps, and '89 Topps that he needed to work toward completing the set.
What was I looking for? I'm always looking for Mets, and I actually don't have a lot of prospect cards. Add to that a few oldies that I like, then add in some Nats that I will either keep or work out a trade with a neighborhood friend… and we had ourselves a trade. Here's what I got back.
Anything That Says Mets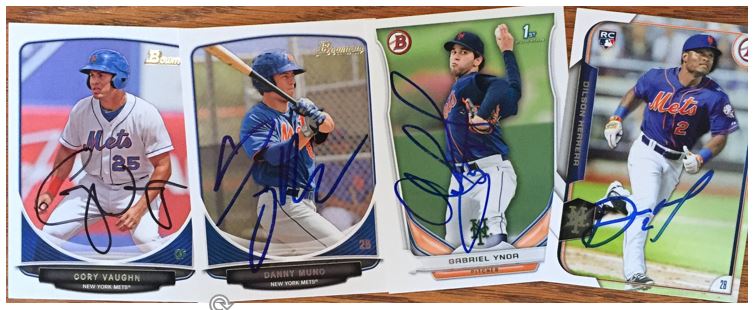 All these guys are or were prospects with the Mets at some point. Ynoa and Herrera played a little bit with Herrera really taking up the bulk of that time. But Herrera went to Cincy in the Jay Bruce deal and Ynoa I think ended up in Baltimore after this last offseason.
As far as a BraveSTARR score goes for all these fellas, I think they are right in the middle. I think Danny and Dilson are the best of the bunch. I would give Cory and Gabriel something like 4.0 and then Danny 5.0 and Dilson 5.5.
Finding Nimmo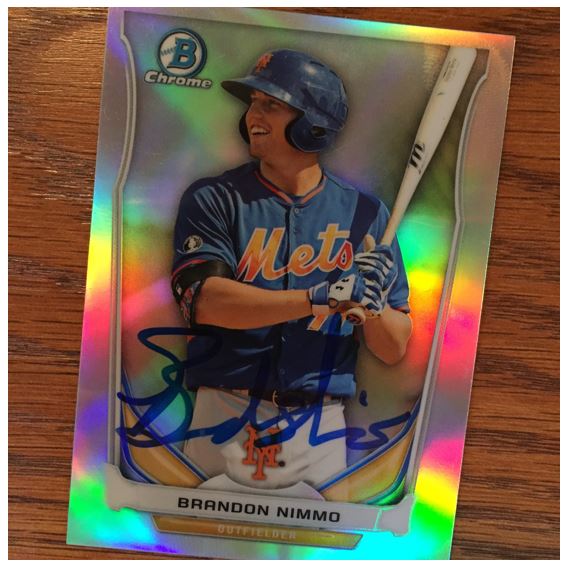 This is my favorite card out of the whole lot. I don't know whether this guy's career is going anywhere but I don't know if you can not like watching Brandon Nimmo play. I mean the smile you see on the card, is the smile he seems to give all the time, but especially if he makes a play in the field or if he gets a hit. He's a real humble kid and he always looks like he happy to be there and appreciates his opportunity. Really psyched for this card.
The score on this card is a 5.5.
Nats Country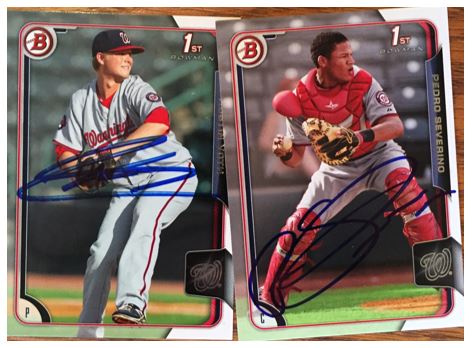 I'm definitely not a Nats fan these days, but this is Nats country. I usually have plenty of opportunity to get a card signed in-person if I look for it. These cards will either stay in the collection or I've got a trade partner in mind. One of my good friend's kids in my neighborhood has been into TTMing over the last couple years. Maybe he'll be interested in trading. For a score I would give each of these 2.5 as they are really just a bit scribbly. Plus the Voth card you can tell is done fast and hard as the marker isn't strong all the way through the signing.
Down on the Farm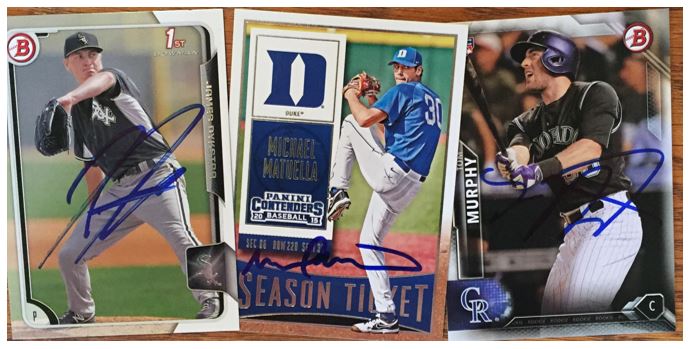 Tom Murphy was part of the trade and the other two were thrown in to even things up at the end. I didn't choose them but I'm happy with what I got back. I like the Matuella signature the best. It's flat but it's interesting. I would give that a 5.0. Murphy I was thinking of sending something to and I would give that a 4.5. Dykstra is another scribbler and that marker looks really dull. I'm giving that one a 2.5.
Oldies But Goodies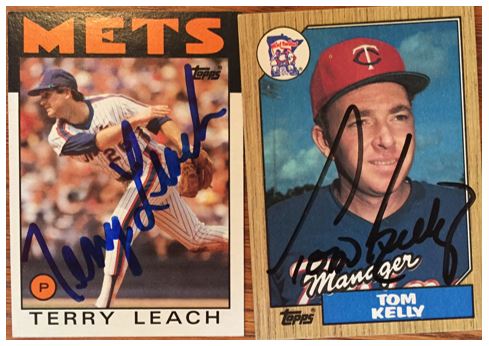 Me likey the old cards. I know these aren't "old" but these are my childhood cards. Tom Kelly always signs great. He has a lot of flair to his signature. Damn he looks young in that picture too. I don't even him remember him not looking old. Tom's card gets a 7.0. I like Terry as well. He was of course one of the Mets I chose. I would give Terry a 6.5.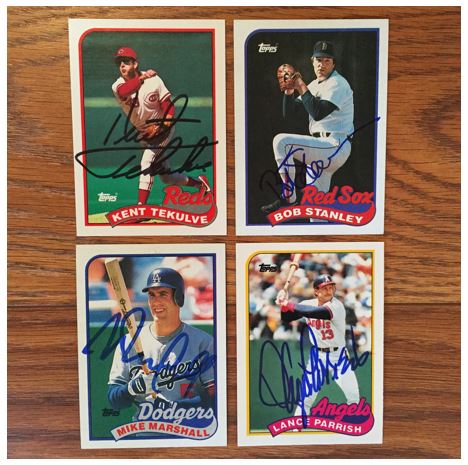 Just a few more oldies to thrown in at the end. I have tried to get Marshall and Stanley before without much luck. Tekulve and Parrish I have but I didn't have these '89 Topps Traded cards. I would score these as Kent…5.0, Stanley…4.5 (but I think it's just harder to see on that card), Marshall…5.5, and then Parrish 5.0.
If you have some '87, '88 and/or '89 look up @JocsLFHecklers on Twitter and see if you can work something out. He's a good dude and easy to trade with. Thanks!