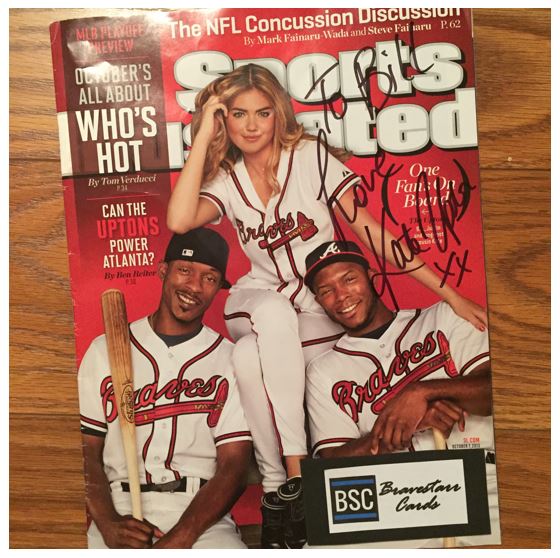 TTM Stats
Sent: 9/15/17 | Received: 10/14/17 | 29 Days
10/7/2013 Sports Illustrated
Address: The Lion Model Management LLC
The Story of the Autograph
Kate Upton is a model and actress. She's known for her appearances in, and especially on the cover of the Sports Illustrated Swimsuit Issue. She's been the cover model three times (2012, 2013 and 2017) and was Rookie of the Year in 2011, the first time she graced the pages of the magazine. As an actor she's been in films like Tower Heist and The Other Woman.
So since I mostly blog on the sports side of things, let's find out more about the sporty side of Kate. When she was younger (around age 7) she moved from Michigan to Florida. In Florida she rode paint horses and competed at the national level with Western Riding. She won several awards as a young girl through her teenage years with her horses Roanie and Colby.
Her other tie to sports is her engagement to pitcher Justin Verlander of the Astros.
Obviously Kate's done a lot of modeling and it would be impossible to list everything she's done and every well-known cover or ad campaign she been a part of. She a very successful model and she seems to not take herself too seriously. It's always good to see someone have some fun with their fame.
The Score on Kate Upton – 7.0


This is actually a second try on this one. The first time I tried it I got it returned to me because it must have been her old agent. I actually love this cover because it's just kind of silly. I would never send to the Upton brothers because I know they don't sign TTM. So I tried their "sister from another mister." Plus, would never send the Sports Illustrated Swimsuit Issue because it would cost a fortune.
I like what Kate did here. Usually with personalization you get "To <Name>" then a signature and that's it. In this case she adds the "Love" and the kisses "XX." Nice touch Kate! I've been having some pretty good luck on the non-sports TTMs that happen to be on sports-related subject matter.
Thanks Ms. Upton! This one gets a 7!
>>> READ MORE ABOUT MY AUTOGRAPH SCORING SYSTEM <<<
Thanks for visiting BravestarrCards.com: Card Collecting and TTM Autographs.