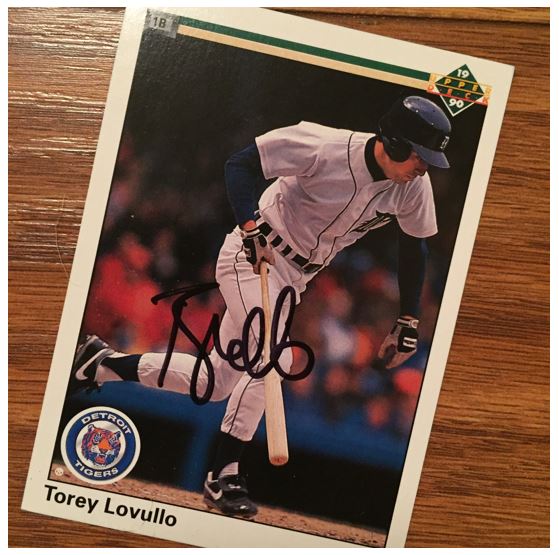 TTM Stats
Sent: 9/7/17 | Received: 10/14/17 | 37 Days
'90 Upper Deck
Address: Arizona Diamondbacks
The Story of the Autograph
Torey Lovullo has been a player, coach and now manager in Major League Baseball for somewhere around 16 years. Over a 12 year span he played for the Tigers, Yankees, Angels, Mariners, Athletics, Indians, and Phillies. Each of those stops was for one year at a time except for his first two years with the Tigers. He was a coach with the Blue Jays and Red Sox from 2011 through 2016. As of the beginning of this year he is the manager of the Arizona Diamondbacks.
Torey only played one full season in the majors. That full season came with the Angels in 1993 and he appeared in 116 games. That season he was a teammate of then pitcher John Farrell which is important for his career later. Over his career he played mostly second base, but also played first and third. He batted .224 for his career with 15 HRs and 60 RBI. After his career in the US was done he spent one season in Japan with the Yakult Swallows in 2000.
After his playing days Torey immediately went into the coaching ranks in the minors. When John Farrell became the manager of the Blue Jays in 2011, he named Lovullo to his coaching staff. Lovullo then moved with Farrell to Boston in 2013. When Farrell was in the hospital, first for a hernia and then they found a stage 1 lymphoma, Torey was named the interim manager while Farrell underwent treatment. The Red Sox were great under Lovullo.
In October of 2016 Lovullo was name as the manager of the Arizona Diamondbacks. It was a good move as he led the Diamondbacks to a 93-69 finish, good for the first Wild Card in the 2017 playoffs. I'm pretty sure that Arizona will be back strong next year.
The Score on Torey Lovullo – 4.0


Torey doesn't have that much of a signature. It's more than say Jake McGee, but definitely less than others.  I can make out the "T" but for the last name you kind of only get the end of it. There's not much choice by way of cards that I had for Torey. I think that's just from the nature of his moving around and not able to stick in the bigs. I wish I could have found a team card from this year for him to sign. Maybe I'll try that next time.
I think this one finds the middle ground. Thanks Mr. Lovullo – 4.0.
>>> READ MORE ABOUT MY AUTOGRAPH SCORING SYSTEM <<<
Thanks for visiting BravestarrCards.com: Card Collecting and TTM Autographs.