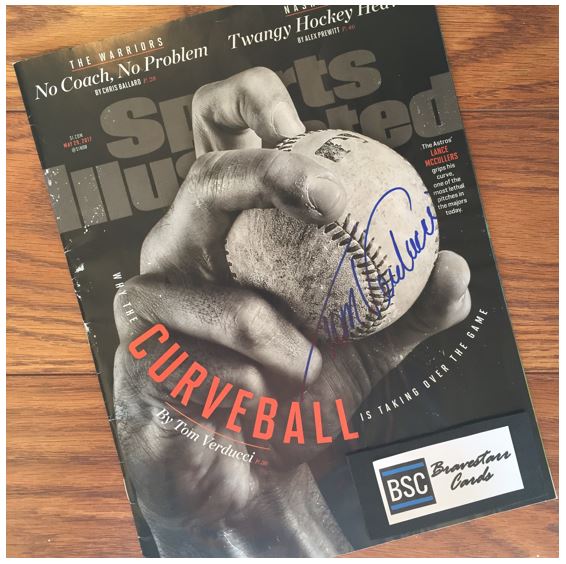 TTM Stats
Sent: 10/27/2017 | Received: 12/18/17 | 51 Days
Sports Illustrated 5/29/2017
Address: MLB Network
The Story of the Autograph
Tom Verducci works as a sportswriter with Sports Illustrated and also works as a TV personality on the MLB Network where works on several different shows. In addition, you can find Tom as part of the MLB postseason broadcasts on TBS.
I can remember Tom writing for Newsday when I was a kid. My Dad used to get Newsday and I used to read the sports section while I was on break. He started working with Sports Illustrated in 1993. Most of his work these days focuses on baseball.
On TV he works takes the role of a "baseball insider" on different programs. I like his perspective. I think he talks as if he is writing and I like the way he puts things. I think he's pretty fair to the players and I like the perspective he brings to the shows he's on.
The Score on Tom Verducci – 6.5


Tom has a pretty cool signature. I like how big he signed and where he signed on this one. I think this one was begging for a silver or gold signature, but that also has the chance for disaster too. He used a good marker though. I think what knocks this one down is item.
I had two of this magazine because I got one from my brother when I thought I didn't receive this one. It turned out I had received it so I sent it off to Lance McCullers. I haven't gotten that one back, but I hope I do. I'm not holding out though.
Thanks Mr. Verducci!  I'm giving this SI a 6.5.
>>> READ MORE ABOUT MY AUTOGRAPH SCORING SYSTEM <<<
Thanks for visiting BravestarrCards.com: Card Collecting and TTM Autographs.