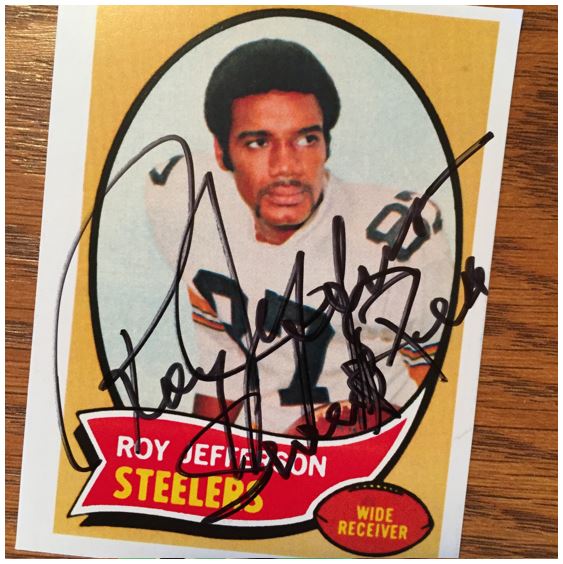 TTM Stats
Sent: 12/5/2017 | Received: 12/23/17 | 18 Days
Custom Card (returned '69 Topps without signature)
Address: Home
The Story of the Autograph
Roy Jefferson played wide receiver for the Steelers (1965-1969), the Colts (1970) and the Redskins (1971-1976). He played 12 seasons and played 162 regular season games during that time. Jefferson went to school at the University of Utah and was the WAC player of the year in his senior season. He also played as the placekicker in college.
In the second round of the 1965 NFL Draft he was selected by the Pittsburgh Steelers. He had an amazing 1968 season when he led the NFL in yards with 1074, and had 58 receptions and 11 touchdowns (both second in the league that year). He was named as a first-team All-Pro the next year when he became the Steelers first back-to-back 1,000 yard receiver. He also added nine touchdowns that year as well. He was the Steelers player rep and there were some issues between he and coach Chuck Noll. He was traded to the Baltimore Colts in 1970.
That wasn't too bad for Roy though. He caught 44 balls for 749 yards and seven touchdowns in his one year as a Colt and helped them win Super Bowl V. Johnny Unitas threw him a 45-yard touchdown pass in the playoffs and he had three catches for 52 yards in beating the Cowboys. He would help the Redskins reach a Super Bowl in his next stop in Washington, but they would not win that year.
Jefferson was named to the Pittsburgh Steelers Legends team as one of the best 24 Steelers players prior to 1970.
The Score on Roy Jefferson – 4.0


This is the second recent Steeler return I got where someone wrote on the back of my letter with their "inscription".  Roy's doesn't have as much as Andy Russell did, but I still love it. He should be proud of his accomplishments and I love seeing a guy that takes the time to do that sort of thing.
Roy didn't sign my card and probably had another prepared. I can't really figured out the inscription on there. It looks like "Steeler" is part of it but beyond that I'm not sure. It actually looks like there's a mistake crossed out in the middle of it. The custom card is also not a standard card sized. It's a bit miscut so I am deciding whether or not to trip the side so it fits in my book.
Thanks Mr. Jefferson. I'm giving this one a 4.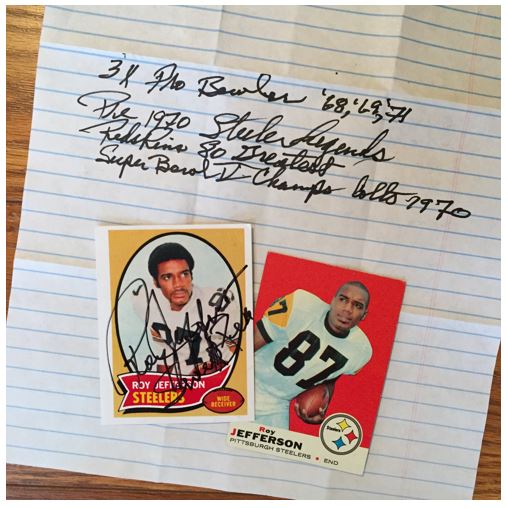 >>> READ MORE ABOUT MY AUTOGRAPH SCORING SYSTEM <<<
Thanks for visiting BravestarrCards.com: Card Collecting and TTM Autographs.