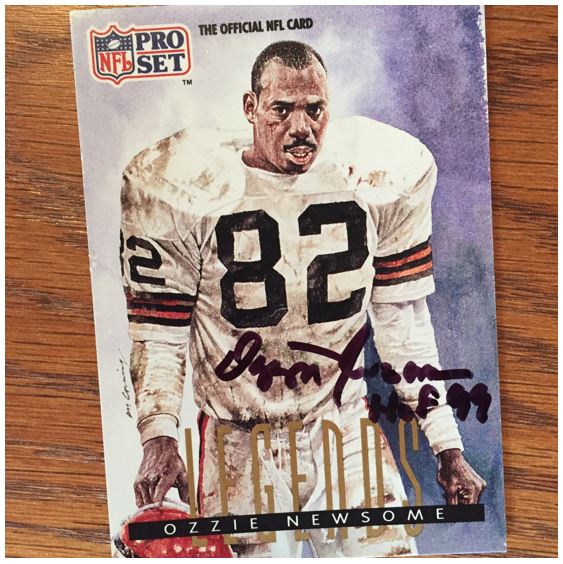 TTM Stats
Sent: 12/11/2017 | Received: 12/20/17 | 9 Days
'91 Pro Set
Address: Home
The Story of the Autograph
Ozzie Newsome played as a tight end in the NFL for the Cleveland Browns from 1978 through 1990. He's currently the GM of the Baltimore Ravens and has been inducted into both the College and Pro Football Halls of Fame.
Ozzie went to Alabama and started all four years that he was part of the Crimson Tide team. He was nicknamed "The Wizard of Oz". Alabama had a 42-6 record during his time there. He caught over 100 passes for more than 2,000 yards and scored 16 touchdowns. He was named the Alabama Player of the Decade for the 1970s.
The Browns picked Newsome in the 1978 NFL Draft with the 23rd pick in the first round. He was the team's Offensive Player of the Year is first year and it was the first time in a quarter century a rookie received that honor. Ozzie went to three Pro-Bowls and set a record for receiving yards in a game that would be broken in 2013. Ozzie never missed a game and played in 198 games and started 191 of them.
It's really a shame that the Browns were such a hard luck team while he was there. They had some really bad luck playoff defeats and sometimes things wouldn't go their way. But as a GM that's all changed. Ozzie started as a GM while the team was in Cleveland and is still with them in the same capacity. He's won two Super Bowls while he's been an executive there by beating the Giants in 2001 and the 49ers in 2013.
The Score on Ozzie Newsome – 5.5


I love that Ozzie signs so readily and so quickly. When do you get the chance to get a signature from a Hall of Famer through the mail with the inscription. I love these "Legends" cards too. I just love the theme for these old signatures. If there's anything I am knocking on this it's that it could be bigger. The marker is fine and all that. I just wish he used more of the card. But hey, I guess I gotta get busy finding another card for Ozzie to sign.
Thanks Mr. Newsome! I'm giving this a 5.5.
>>> READ MORE ABOUT MY AUTOGRAPH SCORING SYSTEM <<<
Thanks for visiting BravestarrCards.com: Card Collecting and TTM Autographs.