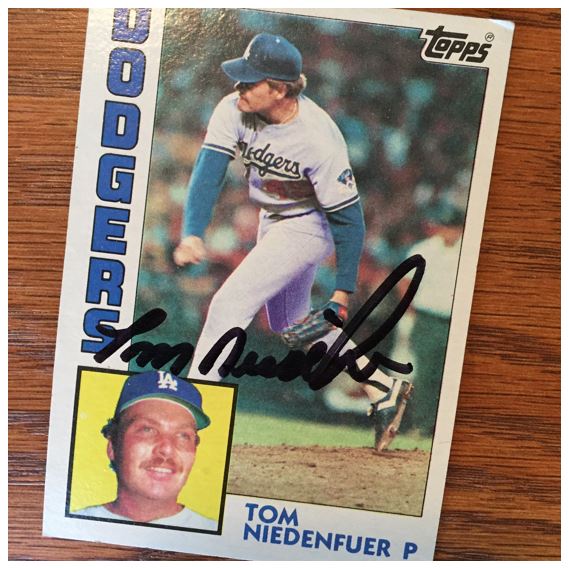 TTM Stats
Sent: 10/28/17 | Received: 11/20/17 | 22 Days
'84 Topps, '85 Topps, '87 Topps, '89 Upper Deck
Address: Home
The Story of the Autograph
Tom Niedenfuer is a former right-handed reliever for the Dodgers, Orioles, Mariners and Cardinals. He pitched for ten seasons and is probably best known as a Dodger where he spent his first six-plus years in the majors.
In 1981 Tom started the year off in Double-A San Antonio. He debuted in the middle of August and pitched in 17 games. But he saved his best for last that year in the World Series. Niedenfuer pitched in Game 1 and Game 4 against the Yankees in that '81 World Series. He allowed no runs and the Dodgers won in six games. I always wonder about guys who win a World Series in their rookie season. Does that warp how you think of the rest of your career? There are guys on the team who may have waited so long to win and then this rookie comes along and wins in his first chance.
Even thought '81 ended the right way for Niedenfuer, his best overall season was 1983. He pitched in 66 games (a career high) with an 8-3 record, 11 saves, and a 1.90 ERA. In 1985 the Dodgers made I back to the NLCS to play the Cardinals. This time wasn't as successful for Tom though. He gave up a walk-off homer to Ozzie Smith in Game 5 and then Jack Clark jacked a three-run home run with two outs in the ninth two days later. In 1987 he would be traded to the Orioles in May and then jumped around to different teams.
On a personal note Tom is married to actress Judy Landers who appeared in a slew of classic 70's and 80's TV shows.
The Score on Tom Niedenfuer – 5.0


Tom has a pretty solid autographs.  He uses up the space pretty well and he uses a good marker. There are two things I find interesting with his signature. The first is that he really makes a big "f". His capital letters look just the same size as the rest of his letters and then that "f" comes along. It just makes for a bit of an unbalanced signature. The second thing that I notice is that Tom appears to always be looking for that "dotted line" to sign on. Just check out the '84 and '85 Topps cards. He signs the '85 on an angle and that goes with the Dodgers box. and then he didn't sign over his face on the '84 card and used the top of his picture box as a guide. So Tom definitely looks at the cards and thinks about where to sign.
Thanks Mr. Niedenfuer. I'll give these cards a 5.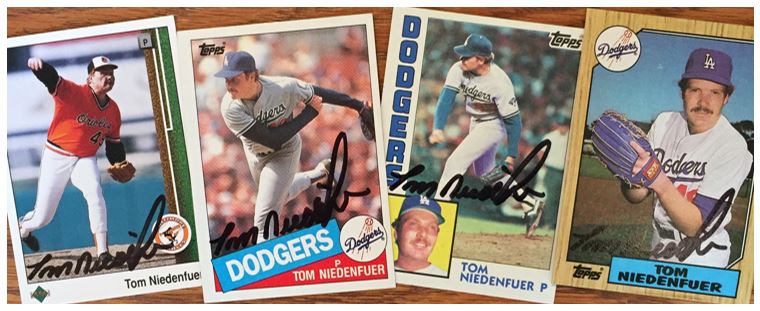 >>> READ MORE ABOUT MY AUTOGRAPH SCORING SYSTEM <<<
Thanks for visiting BravestarrCards.com: Card Collecting and TTM Autographs.