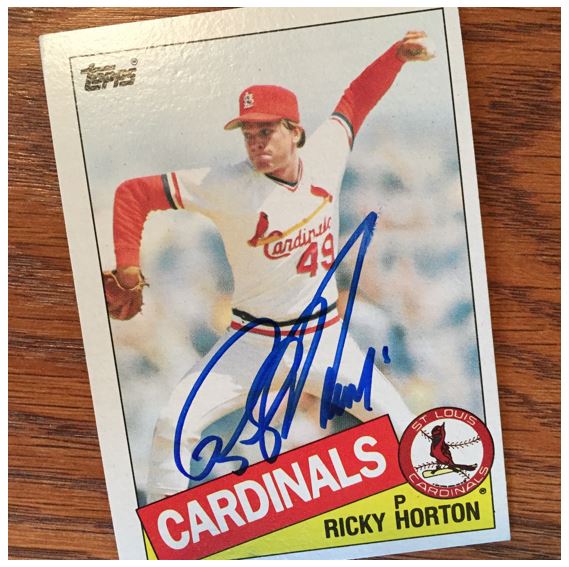 TTM Stats
Sent: 10/6/2017 | Received: 11/21/17 | 45 Days
'85 Topps, '88 Fleer, '88 Topps, '89 Donruss, '89 Topps
Address: Home
The Story of the Autograph
Ricky Horton (now he goes by Rick) pitched for the Cardinals (twice), White Sox, and Dodgers from 1984 through 1990. He was a left-hander hailing from Poughkeepsie, NY and went to the University of Virginia. He led the Wahoos in innings pitched, ERA and strikeouts in the 1980 season. He was drafted that same year by the Cardinals.
A rookie in 1984, he won a career high nine games, starting 18 and appearing in 37. He appeared in both the 1985 and the 1987 World Series for the Cardinals and then the 1988 World Series with the Dodgers and finally got a ring.
That '88 season looks interesting. He started the season with the White Sox and pitched 109+ innings over 52 games, then he was traded to the Dodgers. He only pitched nine innings over 12 games with the Dodgers and had a 5.00 ERA. Rick didn't appear in the World Series, but he was good in the NLCS against the Mets. He pitched 4.1 innings over four games and had a 0.00 ERA while striking out three and walking two. He wasn't great once he got to the Dodgers that year, but he made it count when it was needed.
Rick also fancies himself an actor. Well, maybe not, but he did appear as a White Sox pitcher during a scene in Field of Dreams when Ray's daughter is watching a game on television.
Rick is currently the color commentator on Fox Sports Midwest for Cardinals broadcasts.
The Score on Ricky Horton – 3.5


That is one great "R". It might be one of my favorites. And the check out the top of the "H". They have two little hooks on the top. Rick looks like he kind of has one style up through his "H" and then it kind of switches it up for the "orton".
So if I like it, why is the score so low? He used a good marker, he made his signature a good size…, what gives? Well, Check out the '85 Topps and the '88 Fleer. They both have smudges at the top of the "H". Also, that '89 Topps is in bad shape. I don't know what causes cards to do that sometimes. Usually it's due to the card being ultra glossy. In this case it might just be old. Rick couldn't do too much about that one. I'll definitely send him some more in the future and I bet whatever comes back will look better than a couple of these.
Thanks Mr. Horton!  3.5 for these.

>>> READ MORE ABOUT MY AUTOGRAPH SCORING SYSTEM <<<
Thanks for visiting BravestarrCards.com: Card Collecting and TTM Autographs.