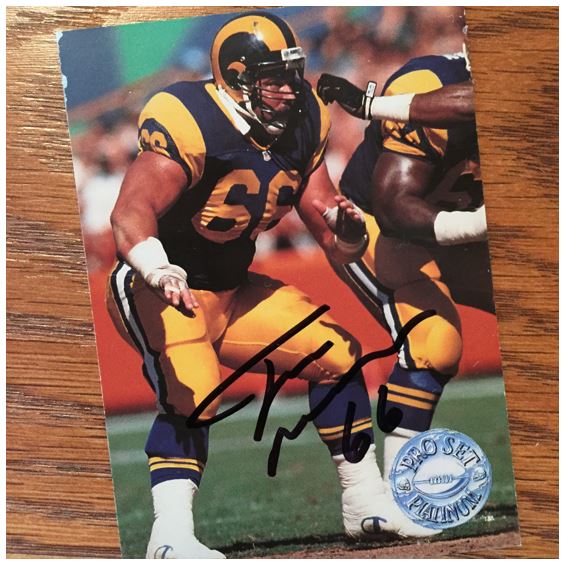 TTM Stats
Sent: 12/9/2017 | Received: 12/16/17 | 7 Days
'90 Fleer, '91 Pacific, '91 Pro Set Platinum (did not return '90 Topps)
Address: Home
The Story of the Autograph
Tom Newberry played in the NFL for ten years. He played guard for the Los Angeles Rams from 1986 to 1994, then played with the Steelers for one year in 1995.
Tom was a Pro Bowl guard in 1988 and 1989 and was also selected as an All-Pro those years as well. His Rams teams could never really get through the playoffs while he was there, but with the Steelers he made it to the Super Bowl and played the Cowboys as a starter. Overall he played in 147 games in his career and started 143 of them.
During those Pro Bowl/All-Pro years he protected Jim Everett at quarterback. He also lead the way for running backs like Cleveland Gary, Greg Bell, Robert Delpino, and Gaston Green.
Newberry was able to get into the end zone in his career. In 1986 he recovered a fumble and scored.
The Score on Tom Newberry – 4.5


Tom doesn't have much to his signature. He's falls into the "squiggly" category with both his first and last names. The "T" is great with the little flick at the and. There's a quality issue on the Fleer card. It could be the way the card is that didn't let it dry like the others. It isn't smudged but it did rub off a little bit. Most of this score is because of that slight quality issue and there not being too much definition in the signature.
Is it possibly that you can not like a card at all until there's a signature on it. I don't really like those Pro Set Platinum cards. The first reason is because of that logo/brand. It feels a bit out of place. The other thing about those cards is that the pictures seem odd sometimes. Sometimes that just because of football and tackling because you don't know who the subject is. Without the name on the front it makes it tough to identify. But then when there's a signature on these they come out pretty well. As long as the picture helps the signature out these can be great. It's almost like a small picture rather than just a card.
Thanks Mr. Newberry. I'm giving these a 4.5.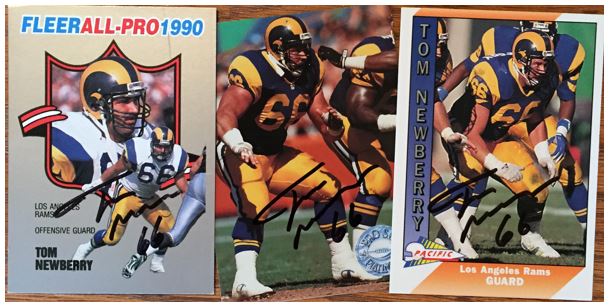 >>> READ MORE ABOUT MY AUTOGRAPH SCORING SYSTEM <<<
Thanks for visiting BravestarrCards.com: Card Collecting and TTM Autographs.