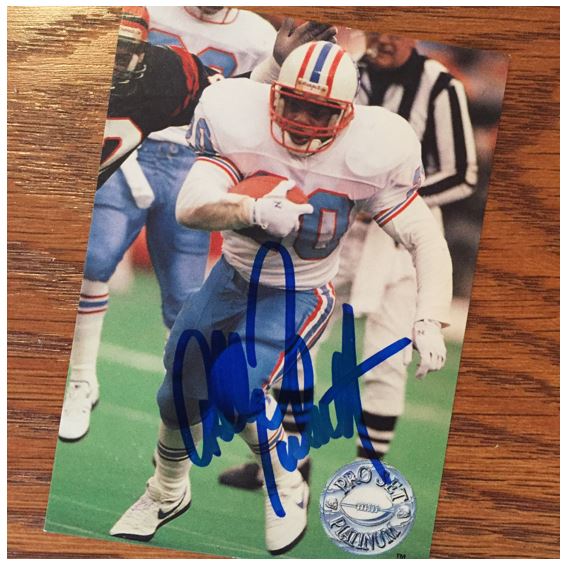 TTM Stats
Sent: 12/7/2017 | Received: 12/16/17 | 9 Days
'91 Pacific, '91 Pro Set P
Address: Home
The Story of the Autograph
Allen Pinket played six years in the NFL with the Houston Oilers as a running back. He's originally from the neck of the woods I live in now and went to Park View High School in Sterling, Virginia. From there is was on to Notre Dame where he became a two-time All-American under coach Gerry Faust.
Pinkett was very successful at Notre Dame. He was in the top ten in Heisman voting in 1985 and he was the school's career rushing leader until his record was broken in the late-90's. He was the first Fighting Irish player to break the 1000 yard mark in three consecutive seasons. And to this day he is the Irish career scoring leader with 53 touchdowns, 49 of those being of the rushing variety. He was drafted in the third round in 1986 by Houston, but his career in the NFL was not the same as his college career.
He's the color commentator for Notre Dame's football broadcasts by IMG College, but he was suspended for three games back in 2012 for some inappropriate remarks. He made a comment on the radio that there's nothing wrong with having "a few bad citizens" on Notre Dame's roster and that a team "full of choirboys" wouldn't win many games. He was given a chance to clarify his remarks, but he pulled a Trump and doubled-down.
The Score on Allen Pinkett – 7.5


I love how these came out. That marker is such an awesome color of blue. I don't know how it got that way because I'm sure it's the standard blue Sharpie, but somehow it looks so bright and it has this different tint to it. Allen has a great signature. Everything is nice and big and clean. It looks fast and flowing, but then again it looks controlled. I'm going to have to find more cards of his because I am really digging it.
Thanks Mr. Pinkett. These get a 7.5.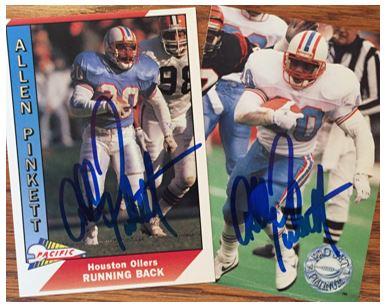 >>> READ MORE ABOUT MY AUTOGRAPH SCORING SYSTEM <<<
Thanks for visiting BravestarrCards.com: Card Collecting and TTM Autographs.