TTM Stats
Sent: 8/19/2017 | Received: 12/18/17 | 119 Days
'87 Donruss, '10 Topps (returned 2 '11 Topps Heritage and a '12 Topps Heritage unsigned)
Address: San Francisco Giants
The Story of the Autograph
Bruce Bochy is a former player and currently a manager with the San Francisco Giants. As a player he was a catcher and played for the Astros, Mets and Padres from 1978 through 1987. He spent most of that time with the Padres at the end of his career (1983 through 1987).
Bochy was a backup throughout his career. In Houston he was the back up to Alan Ashby while in San Diego he was the back up to Terry Kennedy and then Benito Santiago. Even though he was a backup he did play in the 1980 NLCS against the Phillies. In fact, Pete Rose (as he always seems to do I guess) ran over Bruce to score the go-ahead run in the tenth inning of Game 4. He also played in a game in the 1984 World Series for the Padres against the Tigers as well.
If anyone asks you "who was the only man to hit a walk-off against Nolan Ryan?" The answer is Bochy. On July, 1 1985 the did it playing for the Padres against the Astros. When you think about it, yes, starters went longer in those days, but how many starters would be in position to give up a walk-off? Still, it would be something I'd want to tell people.
Bruce has a pretty good managerial record, but it's the championships that are most important. He managed for the Padres for 12 years and since 2007 has been the manager of the Giants where he's won three World Series Championships.
The Score on Bruce Bochy – 5.5


Bruce has a solid signature. I sent to him a lot (five times I think) and usually is the issue is the quality of the pen. It's either the quality of the pen or the speed in which he signs. But it just means for a light signature. I will say that this might be the best version of his signature I've gotten in a while.
He does only sign two cards so if you are sending things and are worried about what you get back just remember that. I think sometimes he considers what is one the card too. A lot of time I send him generic Giants cards and he's passed them up and only signed one.
Thanks Mr. Bochy. These get a 5.5.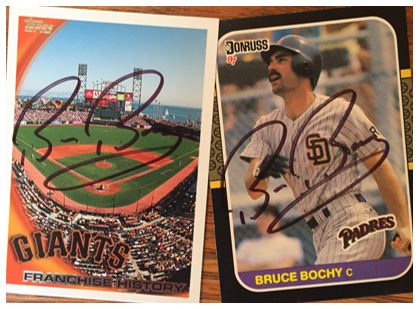 >>> READ MORE ABOUT MY AUTOGRAPH SCORING SYSTEM <<<
Thanks for visiting BravestarrCards.com: Card Collecting and TTM Autographs.