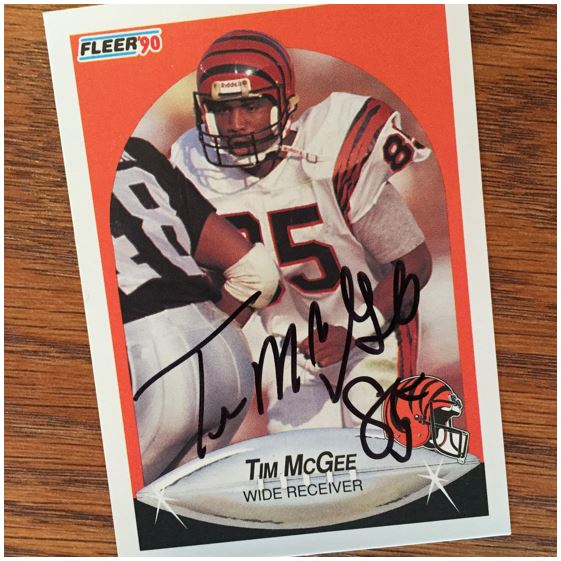 TTM Stats
Sent: 12/27/2017 | Received: 1/20/18 | 23 Days
'90 Fleer, '91 Fleer, '91 Pacific
Address: Home
The Story of the Autograph
Tim McGee played wide receiver in the NFL for 10 years. He was a Bengal for his whole career aside for the one year he spent with the Washington Redskins. The Bengals drafted him in the first round of the 1986 draft out of Tennessee. He had a pretty good career and as both a receiver and return man from 1986 through 1995.
McGee had some great years at Tennessee and played with a bunch of other players that would have success in the NFL. He would end up setting a few schools records for receiving that have since been broken.
Tim started his time in Cincinnati with a bigger impact as a returner than a receiver. In his rookie season he led the NFL in kickoff return yards with 1,007. Then he steadily built himself as a more important receiver with the team by increasing his catches, yards and touchdowns through his first four years with the Bengals. His best year was 1989 when he caught 65 passes (his career high) for 1,211 yards (his career high) and eight of those for touchdowns (a career high). He would help the Bengals to a Super Bowl XXIII appearance after a 12-4 record.
After playing Tim became a sports agent and represented the likes of Peerless Price, Stacey Mack and John Henderson (Price and Henderson also went to school at Tennessee). These days he owns a car dealership.
Something else interesting to note about Tim, he went to high school with Charles Oakley of NBA fame.
The Score on Tim McGee – 4.5


Tim's got an OK signature. One of the things I like to look for his consistency and I don't really see it in these. The "85" is a good place to see that. In fact it doesn't even look like an "85" in most of these. It's a bit of a messy signature and the consistency issue kind of makes you look at it that way. What's also less consistent is the quality of the marker. That's seen most in the "Ts".
Still, returns are ALWAYS appreciated. Thanks Mr. McGee! I'm giving this one a 4.5.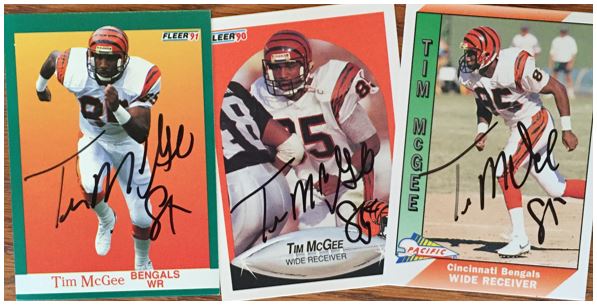 >>> READ MORE ABOUT MY AUTOGRAPH SCORING SYSTEM <<<
Thanks for visiting BravestarrCards.com: Card Collecting and TTM Autographs.
Information gathered using Wikipedia and Pro Football Reference.