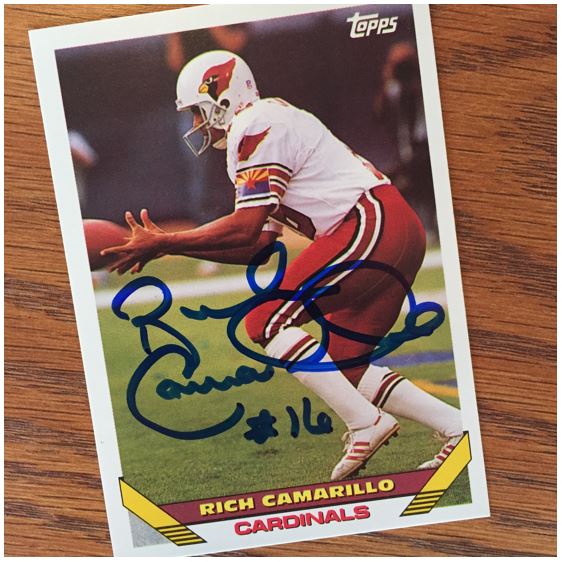 TTM Stats
Sent: 1/6/2018 | Received: 1/20/18 | 14 Days
'90 Fleer, '91 Pacific, '93 Score, '93 Topps
Address: Home
The Story of the Autograph
Rich Camarillo was a punter in the NFL for 16 seasons. Over that long career he played for the New England Patriots, Los Angeles Rams, Phoenix Cardinals, Houston Oilers and Oakland Raiders. The majority of his career was spent with the Patriots (1981-1987) and the Cardinals (1989-1993).
Rich went to the University of Washington in 1979 and 1980 after transferring from a junior college. He went undrafted coming out of college and was picked up by the Patriots in 1981. He had some solid seasons and led the league in punting yards twice, net yard average three times, gross yards per punt once, and punts inside the 20 once. In 1985 he was part of the Patriots team that made it to Super Bowl XX. Unfortunately they played the Bears and were blown out 46-10. But Camarillo had six punts for the game and even set what was then a record with a 62-yard punt. Unfortunately, like they did a lot that day, the Bears scored after that punt and driving 96 yards for a touchdown.
At the time he retired Camarillo had the most punts inside the 20 for a career with 279. He made the Pro Bowl five times over his career, only second in appearances for a punter to Ray Guy and Shane Lechler. In his very first game Rich had a punt returned for a touchdown. But it would be 14 seasons and 876 punts later in 1994 when he would have another returned for a score. He was nominated for the Hall of Fame in 2009 but was not elected.
The Score on Rich Camarillo – 7.0


Oooo, Rich likes to get loopy. Rich is someone who looks like they take a lot of care with their signature. I definitely appreciate that and prefer this to some other signatures that look like they are easily done. I think the '93 Fleer is a bit too busy for the signature, but other than that these all work great. This is an example of another guy that looks like he is a pretty reliable signer too. If you are looking to get into football TTMs, definitely put Rich on your list.
Thanks Mr. Camarillo. These get a 7.

>>> READ MORE ABOUT MY AUTOGRAPH SCORING SYSTEM <<<
Thanks for visiting BravestarrCards.com: Card Collecting and TTM Autographs.
Information gathered using Wikipedia and Pro Football Reference.