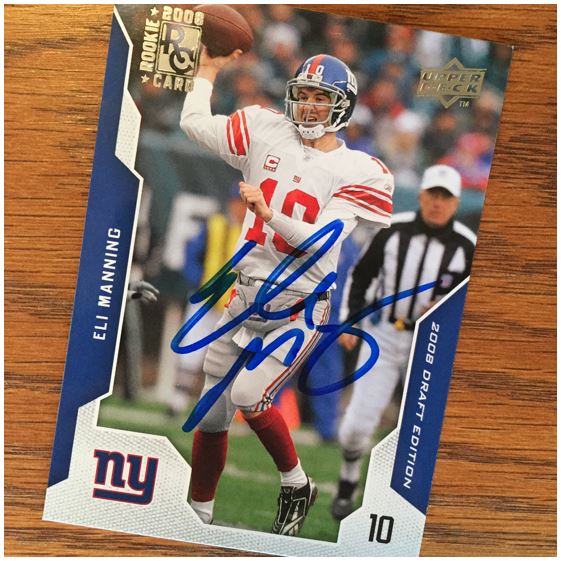 TTM Stats
Sent: 10/31/2017 | Received: 1/20/18 | 80 Days
'08 Upper Deck NFL Draft Edition, '09 Donruss Gridiron Gear (returned 2017 Donruss unsigned)
Address: New York Giants
The Story of the Autograph
Eli Manning is the quarterback for the New York Giants and as talk and things happened over 2017, as a Giants fan, I really want him to be known only for that. He has his detractors and he is definitely not perfect, but Eli has been dedicated to the Giants franchise since day one and he keeps coming back no matter what. But even more impressive about Eli, he seems like a good guy and he does a lot for his teammates and his community. I think I'm going to focus on his college career and hope that I'll get another return from him in the future and focus on something else.
He went to Ole Miss like his father. During his time there he set 45 single-game, season, and career records. He won a ton of awards during his time in school and was a finalist for the Heisman in his final year finishing third behind Jason White (Oklahoma) and Larry Fitzgerald (Pitt). By the time he finished up he had over 10,000 yards in a little more than three years. In addition he had 84 touchdowns and 36 interceptions. He was never a dual-threat though and actually ended his college career with -135 yards rushing.
In his senior year he led the Rebels to a 31-28 Cotton Bowl win over Oklahoma State to close out the season at 10-3. He would end up near the top of the SEC career leaders in yards, touchdown passes and passer rating. His next step would be to move on to the NFL and the New York Giants.
The Score on Eli Manning – 5.0


I don't know if anything Eli signs is real. I think some have questioned it. He used to never sign (or I was never successful) and then I think the whole thing happened with the memorabilia. I'm not going and getting these PSA'd or anything so I'll take it as real enough for me. The Upper Deck card is the best of these two because you can see it. On the Gridiron Gear card he signed over the darker part of the card so it's harder to see.
Thanks Eli! These get a 5.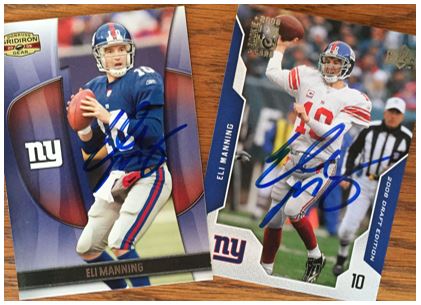 >>> READ MORE ABOUT MY AUTOGRAPH SCORING SYSTEM <<<
Thanks for visiting BravestarrCards.com: Card Collecting and TTM Autographs.
Information gathered using Wikipedia and Pro Football Reference.