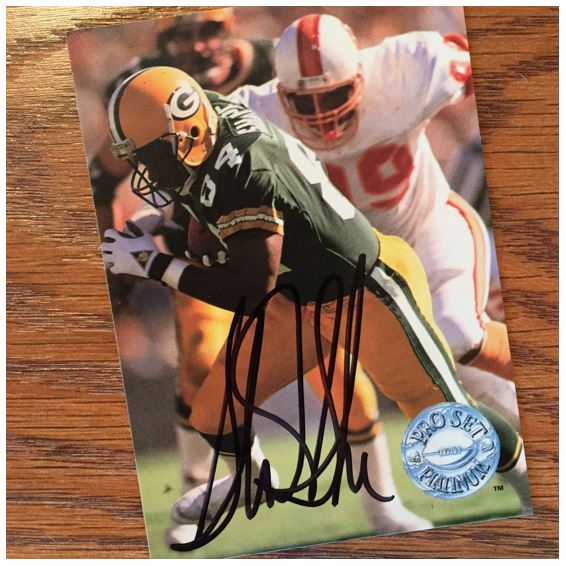 TTM Stats
Sent: 10/21/2017 | Received: 11/24/17 | 33 Days
'90 Topps, '91 Pro Set, '19 Pro Set Platinum, '94 Upper Deck
Address: NFL Network
The Story of the Autograph
Sterling Sharpe is a former wide receiver for the Green Bay Packers from 1988 through 1994. He went to the University of South Carolina and set school records for receptions, receiving yards and touchdowns (some since broken). His No. 2 was retired in 1987 while he was still playing (the second Gamecock to have that honor while still playing). He was actually represented by his college coach and mentor, William "Tank" Black, during his professional career.
After being drafted seventh overall in 1988, Sharpe went on to appear in five Pro-Bowls, make the All-Pro team three times and lead the league in touchdown twice. He was known as a very tough player and was a great receiver with the Packers. In 1992, Brett Favre came along and Sharpe increased his production even more. He ended up leading the league in receptions , receiving yards, and touchdowns – something very have done.
What was already a great career was cut short by injury. In 1994 Sterling suffered a neck injury. Two years later the Packers would win the Super Bowl. His younger brother Shannon would give him one of his Super Bowl rings later citing him a major influence in his life.
These days, Sterling works as an analyst with the NFL Network.
The Score on Sterling Sharpe – 4.5


Wow, that's one tall auto! Sterling definitely scrunches it together. You can kind of make out the "S" in both names, but it is a bit of a jumble. From a signature standpoint, these are right average for me. I'm taking off a little because the '94 Upper Deck card smudged a bit on the back of the '90 Topps card. I think that is something consistent I have seen with the Upper Decks of that era because of the gloss. The other reason I dropped the score a little was that the marker looks good on some (like the Pro Set Platinum), but not as strong on the others.
Thanks Mr. Sharpe! I'm giving these a 4.5.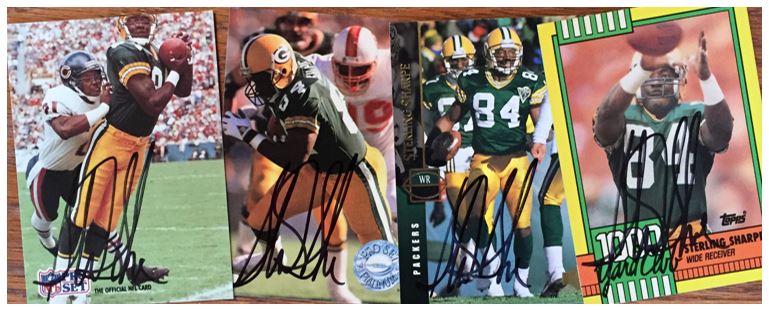 >>> READ MORE ABOUT MY AUTOGRAPH SCORING SYSTEM <<<
Thanks for visiting BravestarrCards.com: Card Collecting and TTM Autographs.