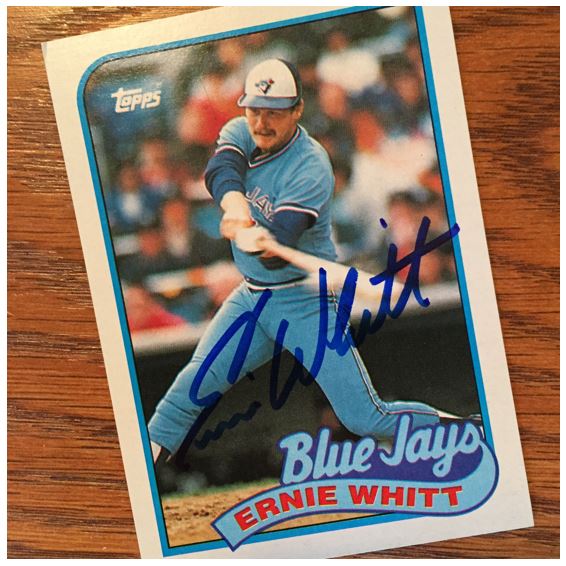 TTM Stats
Sent: 11/3/2017 | Received: 11/24/17 | 21 Days
'81 Fleer, '83 Topps, '89 Topps, '90 Topps
Address: Home
The Story of the Autograph
Ernie Whitt played in the big leagues as a catcher from 1976 though 1991. While he played a year for the Red Sox, a year for the Braves, and a year for the Orioles, most would remember Ernie as playing for the Toronto Blue Jays which he did from 1977 through 1989. He was actually the last player from Toronto's inaugural 1977 season to play for them through 1989.
Ernie's career started slow. But in 1982 he found the offensive spark he needed. He hit .261 with 11 homers (third on the team) and 42 RBI. Those seem pedestrian but for eight seasons he would hit double figures in homers and reach 100 hits in five straight seasons from 1985 through 1989. In 1985 he made the All-Star game and helped the Blue Jays to their first postseason appearance with 19 homers and 64 RBI. Whitt would eventually be traded in 1989 to make room for younger guys. The Blue Jays traded him to the Braves.
These days Ernie has been the manager for the Canadian national baseball team in the Olympics (2004), the World Baseball Classic, and the Pan Am Games (winning gold medals in 2011 and 2015).
The Score on Ernie Whitt – 7.5


Ernie Whitt is always a great TTM signer. While a couple of these are doubles for me, they will definitely replace what I have because of either the quality of the card or the quality of the signature. Ernie is so consistent when he signs. He always gives is a great angles and he signs nice and even. I've never known him to use a bad marker and he always uses the full card.
This is another great return as always. Thanks Mr. Whitt. I'm giving these a 7.5!

>>> READ MORE ABOUT MY AUTOGRAPH SCORING SYSTEM <<<
Thanks for visiting BravestarrCards.com: Card Collecting and TTM Autographs.