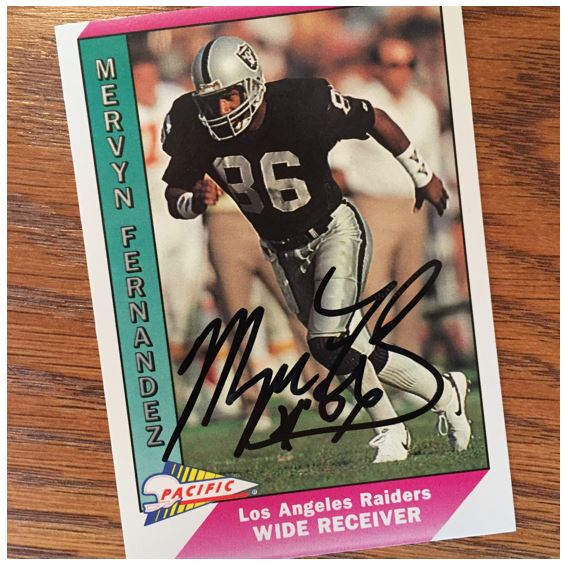 TTM Stats
Sent: 10/20/2017 | Received: 11/21/17 | 31 Days
'90 Fleer, '91 Pacific, '91 Pro Set
Address: Home
The Story of the Autograph
Mervyn Fernandez played football as a wide receiver from 1982 through 1984, but only six of those years were spent in the NFL. All six of those NFL years were spent with the Raiders. The other years were spent in the CFL with the BC Lions.
Fernandez never made the Pro Bowl during his time in the NFL (he was an All-Star in the CFL), but he still had a great impact on the Raiders. He had 209 catches for 3764 yards and 19 touchdowns in his NFL career. Those put him at 10th (for catches) and 8th (for yards) in the Raiders record books. Back then the Raiders (well, Al Davis) loved fast receivers and they loved to throw deep. Mervyn averaged 18.01 yards per catch for his career and that's the most of any Raiders receiver ever. In 1988 he actually led the league with 26.0 yards per catch.
In 1989 he had 57 catches for almost 1,100 yards and nine touchdowns. That was probably his best year and it was actually only the sixth time a Raiders' receiver had gone over 1,000 yards in a season.
The Score on Mervyn Fernandez – 6.5


Mervyn has a good signature. But I'm trying to figure out what that little "x" looking thing is under his first name and before the number. Maybe it's his "#" before his number but it's angled like it's an "x." I really like is "F" though. To me that makes his signature.
One of the issues with Raiders cards is usually that the signature gets hidden by the black in the jersey. In this case the only card like that is the '90 Fleer card. The '91 Pacific is the best one. The Pro Set card has an issue with the marker on the "M."  My bet is that was the first card he signed and he started with mine. The other ones look great.
Thanks Mr. Fernandez, these get a 6.5!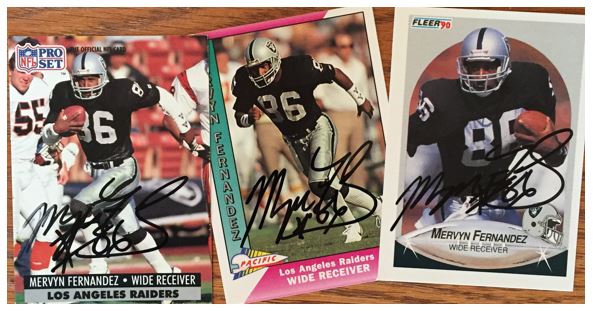 >>> READ MORE ABOUT MY AUTOGRAPH SCORING SYSTEM <<<
Thanks for visiting BravestarrCards.com: Card Collecting and TTM Autographs.