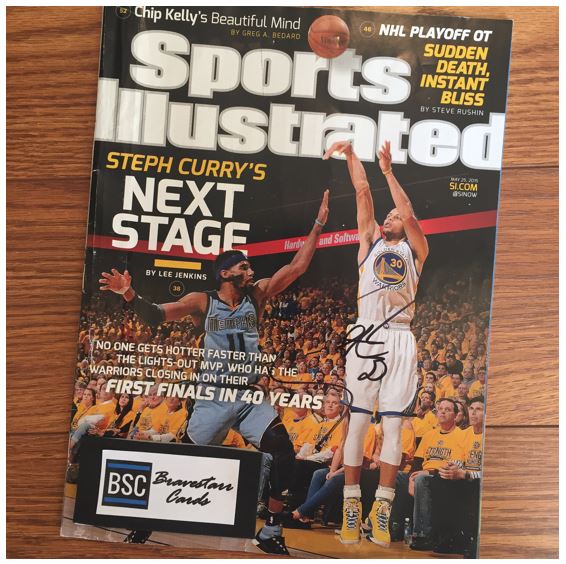 TTM Stats
Sent: 4/22/2017 | Received: 12/26/17 | 244 Days
Sports Illustrated 5/25/2015
Address: Golden State Warriors
The Story of the Autograph
For those that have been living under a rock…
Steph Curry is a guard with the Golden State Warriors in the NBA. He's the son of former player (and three point specialist) Del Curry and the brother of Seth Curry. He's an amazing shooter, maybe one of the best of all time. He's also one of the faces of the modern NBA.
Curry went to Davidson and while in college he was able to lead a small school to some big heights. No, he never went to a Final Four or anything like that, but this skinny little kid (or what he seemed like back then) could carry a team like nobody else. In 100+ games in college he averaged 25.3 ppg and 28.6 in his junior, and final year, at school to be the NBA scoring leader that year. He also doubled his average assists that year to 5.6 per game and increased his assists to 2.5 per game.
He was drafted with the seventh overall pick in the 2009 NBA Draft by the Warriors. His first few seasons were good and he even finished second in the Rookie of the Year voting to Tyreke Evans. Even though he was good, he kept getting better. In 20011-12 though he had surgery on his ankle and then sprained it again in the presearson. Injuries really impacted him for a bit.
He worked his way back to become the Steph you know today. The deep shooting, running and gunning point guard for the Warriors. He's led them to two championships in 2015 and 2017 (that could have been three straight if not for some hi-jinx by Draymond Green). He was also voted MVP of the league in 2015 and 2016 and has gone to four-straight All-Star games. Sometimes it feels like he is going to set a record for shooting and on any given night he's going to put it in from anywhere. Don't look away.
Finally, here's a recent picture and story about Steph and his family that you can have fun with… if you are not a Cavs fan (Steph in his jammies).
The Score on Steph Curry – 4.5


If this is real… this is why you just go ahead and send things. Take a chance sometimes even if you think the person will never sign because you never know when the timing is right.
If this is real… it's still great to have a signature on whatever kind of item you've got for them to sign. This SI is pretty beat up (although you can't see the really bad corner in the picture), but a signature improves it a whole lot.
If this is real… this isn't the greatest version of Steph's signature but it does look consistent with how he signs from what I've seen. You could take the way the "30" is written to mean that it was not done by him, but you could also argue that if he is catching up on a bunch he may be going pretty fast.
If this is real… I'm giving it a 4.5. I know that is low. Part of that is the fact that I am a little wary. Part of that is the quality of the signature. The majority of it is because this magazine is beat up (not sure if it was beat up before I sent or after) and that the signature is in a good place but is kind of hidden by some of the busy background.
Thanks Mr. Curry!
>>> READ MORE ABOUT MY AUTOGRAPH SCORING SYSTEM <<<
Thanks for visiting BravestarrCards.com: Card Collecting and TTM Autographs.