TTM Stats
Sent: 9/7/2017 | Received: 12/18/17 | 101 Days
'88 Fleer, '92 Pinnacle ('90 Upper Deck returned unsigned and '94 Score not returned)
Address: Texas Rangers
The Story of the Autograph
Jose Guzman pitched in the majors after being signed as an amateur free agent in 1981 with the Rangers. He primarily played for the Texas Rangers from 1985 through 1992, but also for the Chicago Cubs in 1993 and 1994.
Jose was a starting pitcher and he had a few good years with the Rangers. In went 13-7 in 1991 and was named the MLB Comeback player of the year. He followed that up with a 16-11 year and stuck out 179 batters (a career high). Even with some success his ERA was always on the high side. His career ERA was 4.05 and the best he had was in that '91 year with a 3.08 (aside from his first year with only 5 appearances).
In 1993 Jose experienced one of the most hard luck things you can in baseball – he lost a no-hitter in the ninth with two out. On April 1993, after signing with the Cubs, Jose beat the Braves 1-0 at Wrigley Field. It was Otis Nixon two-out single that broke it up. It would have been the first no-hitter pitched by a Cub since Milt Pappas in 1972.
These days Jose works as a broadcaster. He's part of the Spanish language broadcast for the Rangers.
The Score on Jose Guzman – 5.0


Jose's signature is average, but I would say small. It looks like he condenses it to one side of the card. This is my first return from Jose so I don't know if that is consistent across the board or if it's how he signs cards or if it how he feels he needs to sign these cards. No matter what the reason, he kind of scrunches his signature up on the side of these cards.
The marker isn't solid all the way through so that hurts it a little, but it could just be the way the cards take a signature. Sometime a little gloss doesn't help anything.
I'm giving these a 5. Thanks Mr. Guzman!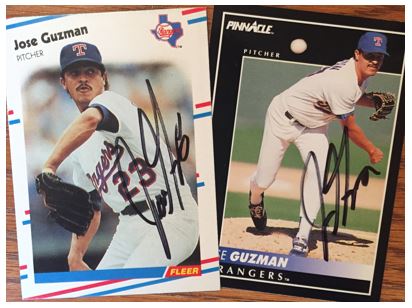 >>> READ MORE ABOUT MY AUTOGRAPH SCORING SYSTEM <<<
Thanks for visiting BravestarrCards.com: Card Collecting and TTM Autographs.